Stadium Heights Residence Community
Stadium Heights Residence Community features off-campus living with on-campus convenience. Spacious, furnished, 3-bedroom units in a quiet, secure neighborhood near campus await students who want their housing to feel 'grown up.'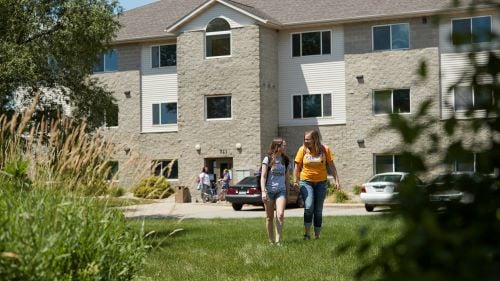 Details
Buildings: 8 plus an office
Floors: 3 (no elevators)
Gender: Single gender units, co-ed floors
Mattress: XL Twin in double rooms (80" long), Full-size in single rooms (85" long)
Bed Style: Adjustable Loft in double rooms, full-size bed in single rooms
Furniture: Bed, Mattress, Desk, Chair, Closet, Horizontal blinds
Moveable Furniture: Yes
Flooring: Most units have carpet, some have laminate flooring
Favorite Features: Extra space to spread out, storage closet
Mail & Packages
Use this format to send mail to your student.
Resident's Full Name
Stadium Heights (Apt. Number)
Street Address (see below)
Mankato, MN 56001
701 Building: 701 Heron Drive
705 Building: 705 Heron Drive
711 Building: 711 Heron Drive
721 Building: 721 Heron Drive
731 Building: 731 Heron Drive
741 Building: 741 Heron Drive
751 Building: 751 Heron Drive
761 Building: 761 Heron Drive
Residents will receive notification from the Stadium Heights Office when they receive a package.
Mail is delivered at Stadium Heights per the USPS schedule.
See more about Mail & Packages