Preska Residence Community
Located across from the library and University Dining Center, Preska Residence Community is a popular choice for students due to its location and variety of rooms.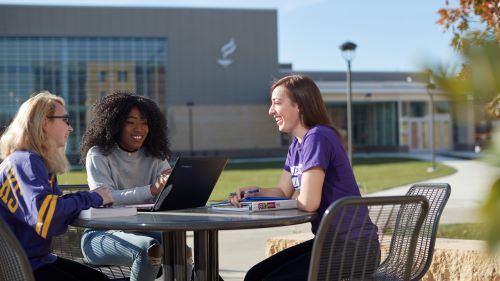 Community Overview
Size: 500 residents
Price: $$-$$$
Room Type: Renovated, Semi-Suites
Air Conditioning: All rooms, floor lounges, & kitchens
Bathroom: Community Bathroom in Renovated area (H Hall); Private bathroom in Semi-Suites (J/K/L Halls)
Location: Main Campus
Address: 450 Ellis Avenue, Mankato, MN 56001
Phone: (507) 389-1021
Details
Floors: 4 (2 elevator locations)
Gender: Single gender by floor in Renovated Rooms (H Hall); single gender in suites, co-ed floors in Semi-Suites (J/K/L Halls)
Mattress: XL Twin (80" long)
Bed Style: Adjustable Loft
Furniture: Bed, Mattress, Desk, Chair, Closet, Vertical blinds
Moveable Furniture: Yes
Flooring: Tile
Favorite Features: Sink in each room, shelf above the window
Mail & Packages
Use this format to send mail to your student.
Resident's Full Name
Preska (Hall Letter) and (Room Number)
450 Ellis Avenue
Mankato, MN 56001
Residents will receive an e-mail from the Preska Front Desk when they have a package.
See more about Mail & Packages