Crawford Residence Community
As a traditional hall, Crawford Residence Community is a popular option for students who want to meet new friends quickly and immerse themselves into the community. Students love the convenience of being adjacent to the University Dining Center and Lot 14.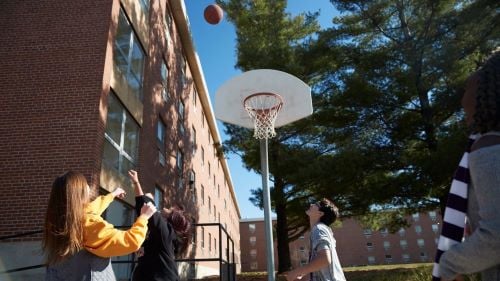 Details
Floors: 4 (elevator in each hall)
Gender: Single gender by floor
Mattress: XL Twin (80" long)
Bed Style: Adjustable Loft
Furniture: Bed, Mattress, Desk, Chair, Closet, Vertical blinds
Moveable Furniture: Yes
Flooring: Tile
Favorite Features: Sink in each room, shelf above the window
Mail & Packages
Use this format to send mail to your student.
Resident's Full Name
Crawford (Hall Letter) and (Room Number)
Hall Street Address (see below)
Mankato, MN 56001
A Hall: 720 Maywood Avenue
B Hall: 730 Maywood Avenue
C Hall: 710 Maywood Avenue
D Hall: 740 Maywood Avenue
Residents will receive an email from the Crawford Front Desk when they receive a package.
See more about Mail & Packages