McElroy Residence Community
Similar in style to its neighbor Crawford, McElroy Residence Community boasts a strong community feel where students know their neighbors. Located near dining, the library, and parking, students enjoy the convenience of being at the center of campus.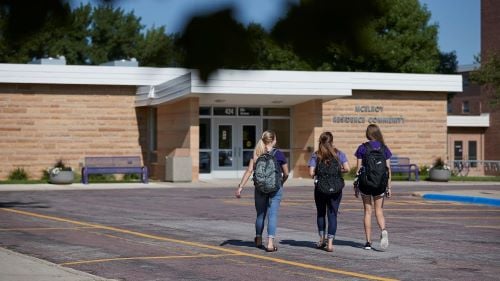 Community Overview
Size: 750 residents
Price: $-$$
Air Conditioning: Renovated Rooms, Triples, Floor Lounges/Kitchens
Bathroom: Community Bathrooms
Parking: Purchase a parking permit if bringing a vehicle. Choose Lot 16.
Location: Main Campus
Address: 400 Ellis Avenue, Mankato, MN 56001
Phone: (507) 389-6717
Details
Floors: 4 (elevator in each hall)
Gender: Single gender by floor, except for G Hall (co-ed)
Mattress: XL Twin (80" long)
Bed Style: Adjustable Loft
Furniture: Bed, Mattress, Desk, Chair, Closet, Vertical blinds
Moveable Furniture: Yes
Flooring: Tile
Favorite Features: Sink in each room, shelf above the window
Mail & Packages
Use this format to send mail to your student.
Resident's Full Name
McElroy (Hall Letter) and (Room Number)
Hall Street Address (see below)
Mankato, MN 56001
E Hall: 410 Ellis Avenue
F Hall: 400 Ellis Avenue
G Hall: 420 Ellis Avenue
H Hall: 430 Ellis Avenue
Residents will receive an email from the McElroy Front Desk when they receive a package.
See more about Mail & Packages