Severe Weather
There is a tornado shelter location for each building on campus. In the event of potentially severe weather, it is recommended that each occupant have access to a portable AM/FM radio, or sellular phone with erergency alert ntofication in order to follow weather updates.
Severe Weather Announcements
Public warning signal (radio, TV; there will be no siren unless there is danger of tornado).
Tune in radio to local commercial broadcast station
AM radio: KYSM 1230, KTOE 1420;
FM radio: KMSU 89.7, KXLP 94.1, KDOG 96.7, KEEZ 99.1, KYSM 103.5;
Television: WCCO ch. 4, KEYC ch. 12 (10 on cable), KARE ch. 11, KSTP ch 5, and KMSP ch 9, to find out if the weather has caused a cancellation of MSU classes
Public warning signal NOAA Weather Radio , or cell phone weather apps.
Watch vs. Warning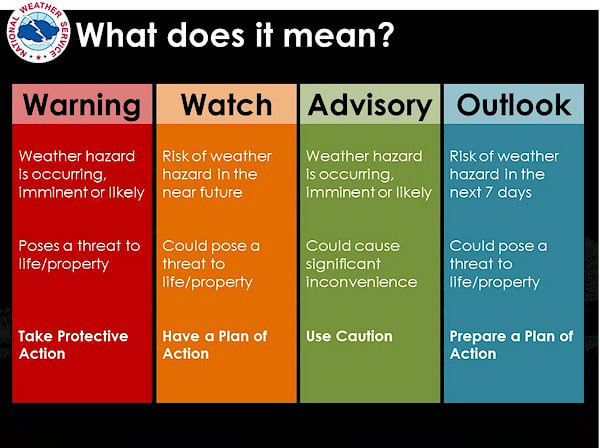 Severe Weather Information
Tornado warning signal (3-5 minutes steady blast on Civil Defense Siren), also alert will be disseminated to University Security from National Severe Weather System.

Note: Sirens are tested first Wednesday of each month at 1 p.m.

Tornado warning announcement will be broadcast to the University Emergency Public Address System.

Note: This is tested on the first Wednesday of each month.

All persons should proceed to pre-designated tornado shelter areas. It is suggested that departments take and listen to a portable battery operated AM/FM radio to accompany you to the appropriate shelter so you are informed of weather updates, such as Tornado warning expirations or extensions.
Evacuate to the shelter areas – don't be sightseers!
Tornado Warning Action: React - you don't need to see the tornado.
Remail calm
Seek indoor shelter in the lowest level possible, in an interior room or hallway. Think "down and in"
Avoid elevators, windows, doors, and large free landing structures like auditoriums and cafeterias.
Crouch near the floor or under heavy, wall-supported objects.
Dover your head with your hands and arms. Watch out for flying debris.
Weather Links:
Campus Tornado Shelter Locations
Preparedness Guide: Severe Weather