Intramural Officials
The Intramural Sports program hires 50+ student officials for 6 team sport activities including basketball, volleyball, softball, soccer, hockey, and flag football.
Get paid to be part of the game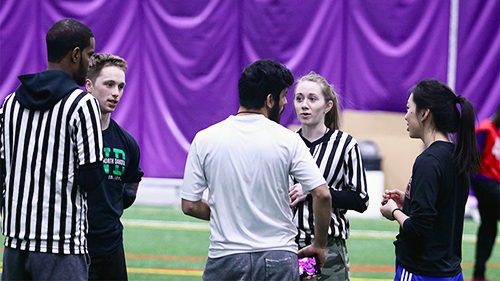 Officials' responsibilities include game, rule, and policy administration, assisting with site and equipment management, assisting in creating a positive and safe environment, and promoting the importance of well-being and physical activity to all participants.
Additional details include:
starting pay rate of $10.25/hour
flexible work hours to fit around your schedule
officials can participate in the sports they officiate
officiating apparel and equipment provided
leadership and advancement opportunities available
Fall 2020 Officials Informational Meetings
Slow-pitch Softball
Wednesday, September 16 at 6:00pm in HC1700A.
Volleyball
Wednesday, September 30 at 6:00pm in HC1700A.