2020 U-LEAD Conference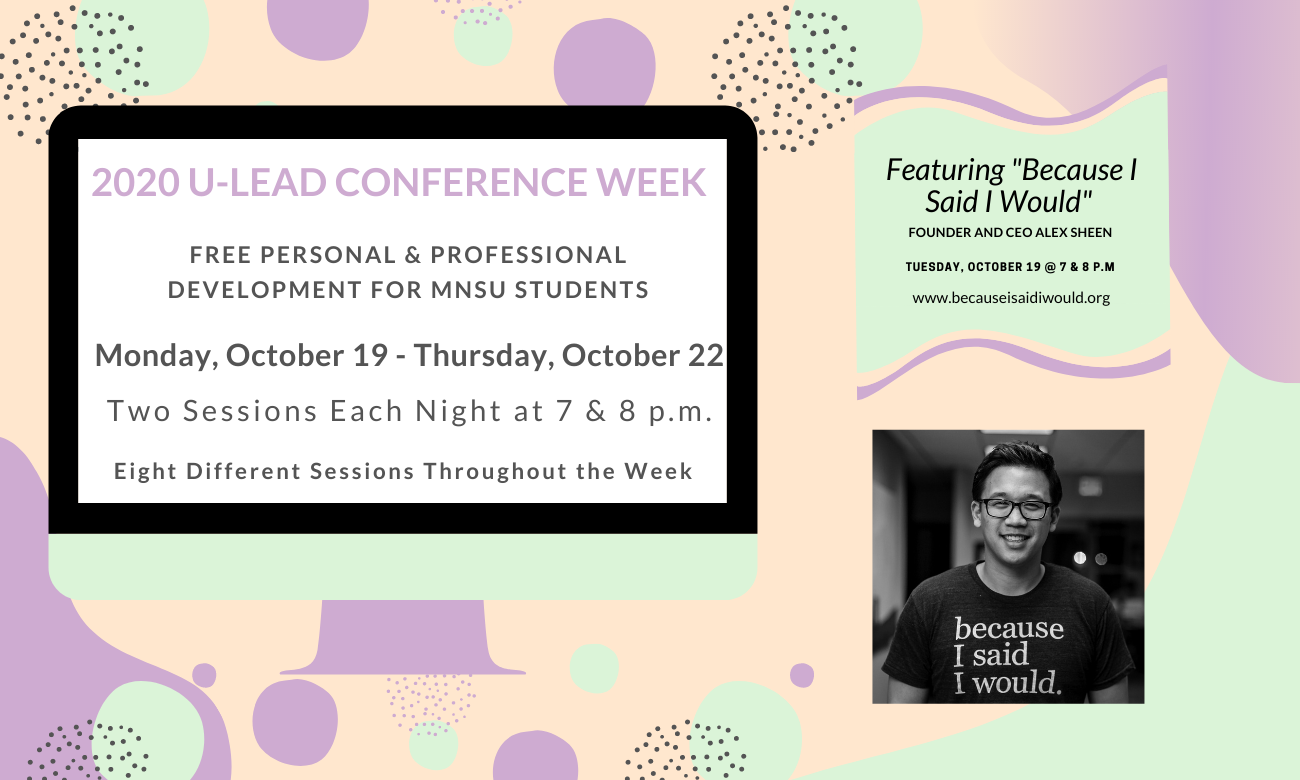 Introducing the topics and the sessions for the 2020 U-LEAD Conference! Since this year is different, we have planned to do some things differently. Instead of just a day, it is going to be a WEEK! Students will have the opportunity to choose from 2 sessions every night from Monday, October 19th to Thursday October 22nd. The sessions will be at 7:00 PM and 8:00 PM each night.
This conference is a great opportunity to learn, grow and develop a different perspective on so many things a college student might be struggling with. All students are welcome to join for as few or as many sessions as they would like!
Please note if you are attending a session, we ask that you register in advance - click the links to register - we hope to see you all there!
The sessions are as follows:
MONDAY, October 19th
7:00 PM: Navigating a Shifting Job Market During Uncertain Times
By: Career Development Center
8:00 PM: Been There, Done That: Experienced Student Leaders Share What They've Learned
By: Student Leaders
TUESDAY, October 20th
7:00 PM: Because I Said I Would - Alex Sheen (Keynote Speaker)
8:00 PM: Follow-Up Session: "Because I Said I Would," Featuring Alex Sheen - 2020 U-LEAD Conference
WEDNESDAY, October 21st
7:00 PM: Say What?! Discussing Tough Stuff with People You Care About
By: Dr. Kristen Cvanara
8:00 PM: Overcoming Zoom Fatigue in the Academic Environment
By: Center for Academic Success
THURSDAY, October 22nd
7:00 PM: Getting Connected When Self-Isolation is Expected
By: Kim Sommers, Counseling Center
8:00 PM: Leadership 101: What Does it Mean to be A Leader?
By: Maverick Involvement Team