Serendipity Music Series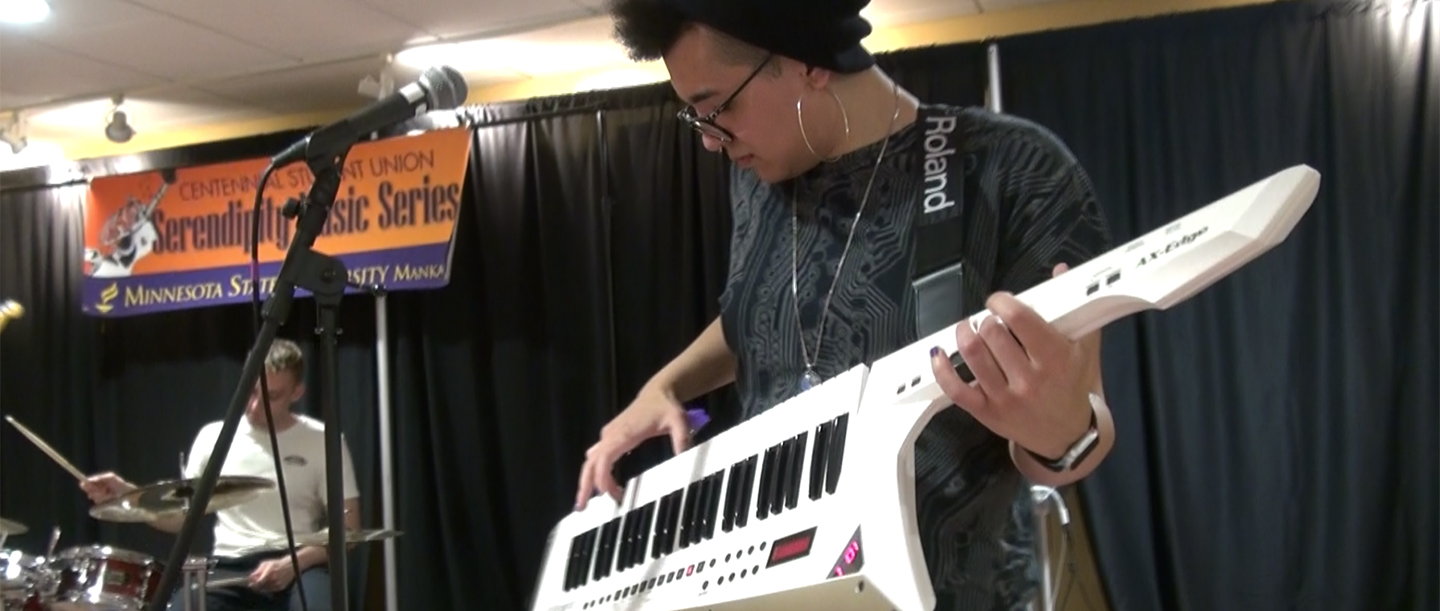 The ongoing Serendipity Music Series in the Centennial Student Union at Minnesota State University, Mankato, offers free mid-week, mid-day performances for the campus and Mankato area community that spotlight Minnesota musicians with "street-corner serenade" style performances. Passers-by can stop to listen or bring their lunch and enjoy some of Minnesota's finest musicians. The performances during fall and spring semesters are sponsored by the Centennial Student Union with support through the student activity fee.
Next Performance
Performers: Dunn & Barron (Joe Dunn is with Frogleg)
Date: Wednesday, Nov. 20
Time: 11 a.m. to 1 p.m.
Location: CSU Lincoln Lounge
Bio:
Joe Dunn is a musical man. His sound is a collection of genres, he plays a collection of instruments and has a vast collection of original songs he's written. He records full band and acoustic music in his studio and is a sought after guitarist, for both live performances and in the studio. Joe has also co-written songs with some of Nashville and LA's top songwriters. He is a artist, in every sense of the word.
Frogleg's first show was in late 2012, quickly, a major buzz about the band has been spreading through the music scene stemming from their long time weekly tradition, "Frogleg Thursdays @ Bunkers" in downtown Minneapolis. Known for their songwriting and improvisational live performances, Frogleg would be best described as a soul band, as their influences are not drawn from one specific genre. A typical Frogleg show usually features a unique blend of Funk, Reggae, Rock and Jazz exploration.
Past Performers' Videos
SMS Video: Everett Smithson Band
SMS Video: Blue Ox Jazz Babies
SMS Video: Piano Man Tom Hunter
Amy Korteum*
Blue Ox Jazz Babies*
Briz & Lady
Chico Chavez
Church of Cash
Dennys Burga
Dred I Dread*
Duckshack Dave
Everett Smithson*
Fairfax AK
Fred Steele
Galactic Cowboy Orchestra
Garrett Steinberg
Good Night, Gold Dust*
Greg Herriges*
Heart of a Tinman
Hot Date
Hustle Rose
Ian Hilmer
Ian Hilmer
Jake Ilika
Jenn Melby and Sister Gin*
Laura Jackson
Lehto and Wright
Maud Hixson
Megan Hamilton
Michael Thul
Nookie Jones*
Ocho*
OK Factor*
Paul Booth Johnson
Paul Mayosich
PreApocalyptic Junkyard Orchestra
Rachael Kilgour
Rain Dogs
Static Panic
Sugar Babies
Tim Cheesebrow*
Tom Hunter*
Vinnie Rose
* Return Performers