Tickets
Click on the links below for more information!
Charlie Berens: Midwest Survival Guide Tour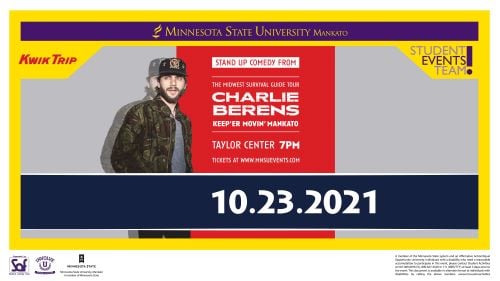 ll tickets are General Admission
Tickets - On Sale August 23, 11:00 AM
MNSU Students: Free (limit one ticket)
VIP Student Entry (Skip the Line) -SOLD OUT
MNSU Family: $5.00
General Public/Faculty: $30
Full Story +
Show Less –
The show is for all ages, and tickets are on sale August 23 at 11:00am at online or in person at Minnesota State Mankato's Student Activities front desk, located in Centennial Student Union, Room 173.
Minnesota State University, Mankato's Student Events Team announced that comedian Charlie Berens will perform in concert at Minnesota State University, Mankato on Saturday, October 23 in the Taylor Center's Bresnan Arena. Doors open at 6:00 p.m., openre at 7:15pm and the headliner begins at 7:30 p.m.
Free event parking will be available in Lots 20 and 21, which are located adjacent to Blakeslee Stadium on campus.
Ticketing Policy
For more information on the concert, contact Will Keebler from the Student Events Team by email at William.keebler@mnsu.edu or by phone at 507-389-6076.

Berens is an emmy-winning journalist, comedian, host, and creator of the Manitowac Minute. The Wisconsin native has been featured on Fox, CBS, Funny or Die, TBS Digital, Variety, MTV News, and more. Berens has achieved fame for his viral social media videos and collaborations with other social media influencers. Notably, the Husbands of Target video with over 76 million views online. Other videos include Midwest Nice, Cow Vs. Deer, and Midwest Voice Translator.

Minnesota State Mankato's Student Events Team, Kwik Trip and Radio Mankato are sponsoring the concert.

Student Events Team is a student-led organization that produces fun, interactive, educational events where students make lifelong memories and celebrate their Maverick pride.

Minnesota State Mankato, a comprehensive university with 14,227 students, is part of the Minnesota State system, which includes 30 colleges and seven universities.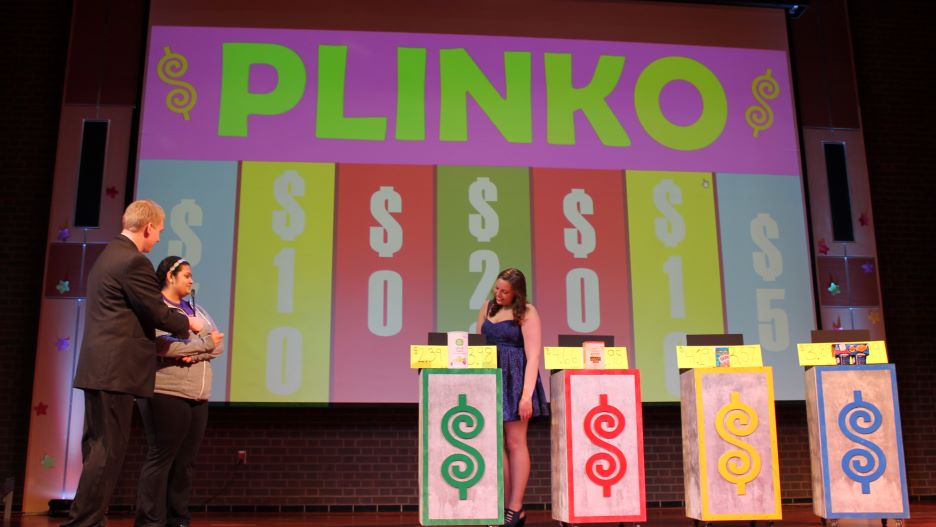 FRIDAY, OCTOBER 22, 2021
7:00 PM, 8:00pm, and 9:00pM
CSU OSTRANDER

More Info
Show Less –
The Student Events Team presents The Price is Right with the ever-energetic host, Alex Arndt! It will be held in Ostrander Auditorium during Family Weekend, Friday October 22 at 7pm, 8pm and 9pm with small breaks in between. Reserved seat ticket for the show are free and must be reserved online at mnsuevents.com.
Contestants will participate on replica set of the Price is Right including games such as, Hole in One, Plinko, Cliff Hangers, Punch-a-Bunch, Stack the Deck, Lucky 7, and others. Contestants will be drawn from the crowd and bid on stage against three other contestants. Contestants in this live version of the popular television show will play for over $1500 in prizes ranging from common household items to Headphones, Gift Cards, and a TV! The Audience will have a lot chances to participate and assist the contestants on stage.
There will also be concessions available for purchase during the show, and a Price is Right photo opportunity will be available to remember this special family event.
The shows will run like the real show with six games to play and include the spinning of the Big Wheel. Students and family members can participate, (age 16 and up) and win prizes but all are welcome to attend the event.