Events Team Tickets
Concert Announcement - Jan 22
Tuesday, January 22

Concert Announcement
MNSU Students: $15
Public: $25
VIP: $40
Announcing spring country concert
Event Info (Annouced Jan 22)
Comedian Daniel Franzese (Damian - Mean Girls)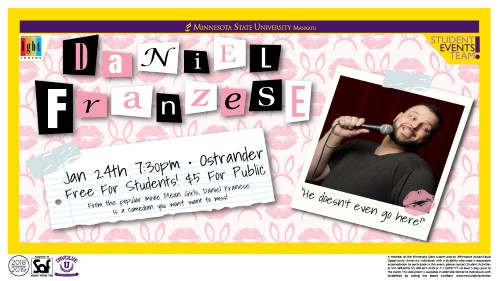 Thursday, January 24 - 7:30pm

Live Comedy!
All Tickets are Sold Out
A stand-by line will be avilable for those wishing wait for a possible ticket opening.
Partons who do not enter with a ticket by 7:30pm will have their seat forfeited.
Reserve your Ticket today!
MNSU: Free

(Sold Out)

Public:

(Sold Out)
Best know as Damian from Mean Girls watch Daniel on ABC's Conviction, Freeform's Recovery Road, HBO's Looking and The Comeback This year he hosted Gay Skit Happens on Logo and the 2016 GLAAD media Awards. Daniel can be seen in comedy shows like Mortified, The Moth, ASSSScat and his YouTube sensation SHIT ITALIAN Mom's Say!
Student Registration (Free) (Sold Out)
Public Registration ($5.00) (Sold Out)