Student Events Team Board Applications Now Open
Application Deadline January 18, 2019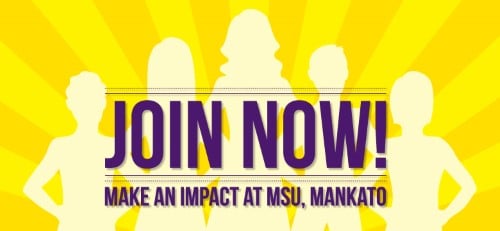 Dear Applicant,
In the packet you will find an application and Student Events Team Board descriptions. If after reviewing this packet you have any questions, please stop by the Student Events Team Office (CSU 173) or call the Student Activities Office at (507)389-6076.
Positions Available:
Applications will be accepted as they are submitted. Positions will be filled as applicants apply.
If your application is selected you will be contacted to set up an interview time.
If you are selected for an interview, you will have 15 minutes for the interview which will consist of 10-13 questions. Example include:
Post leadership experience
Why you want to be on the Student Events Team Board
What you can bring to the team and the position you are applying for (i.e. leadership style, motivational and organizational skills)
Strengths and weaknesses
There will be five minutes set aside in each individual interview so you may ask questions of the group.
Good Luck,
Bailey Hofmeister
Student Events Team President
(507) 389-6076 or bailey.hofmeister@mnsu.edu