Tickets
Minnesota State Mankato Night at the Moondogs
THURSDAY, JUNE 24, 2021
6:35 PM - 10:00 PM
FRANKLIN RODGER PARK - ISG FEILD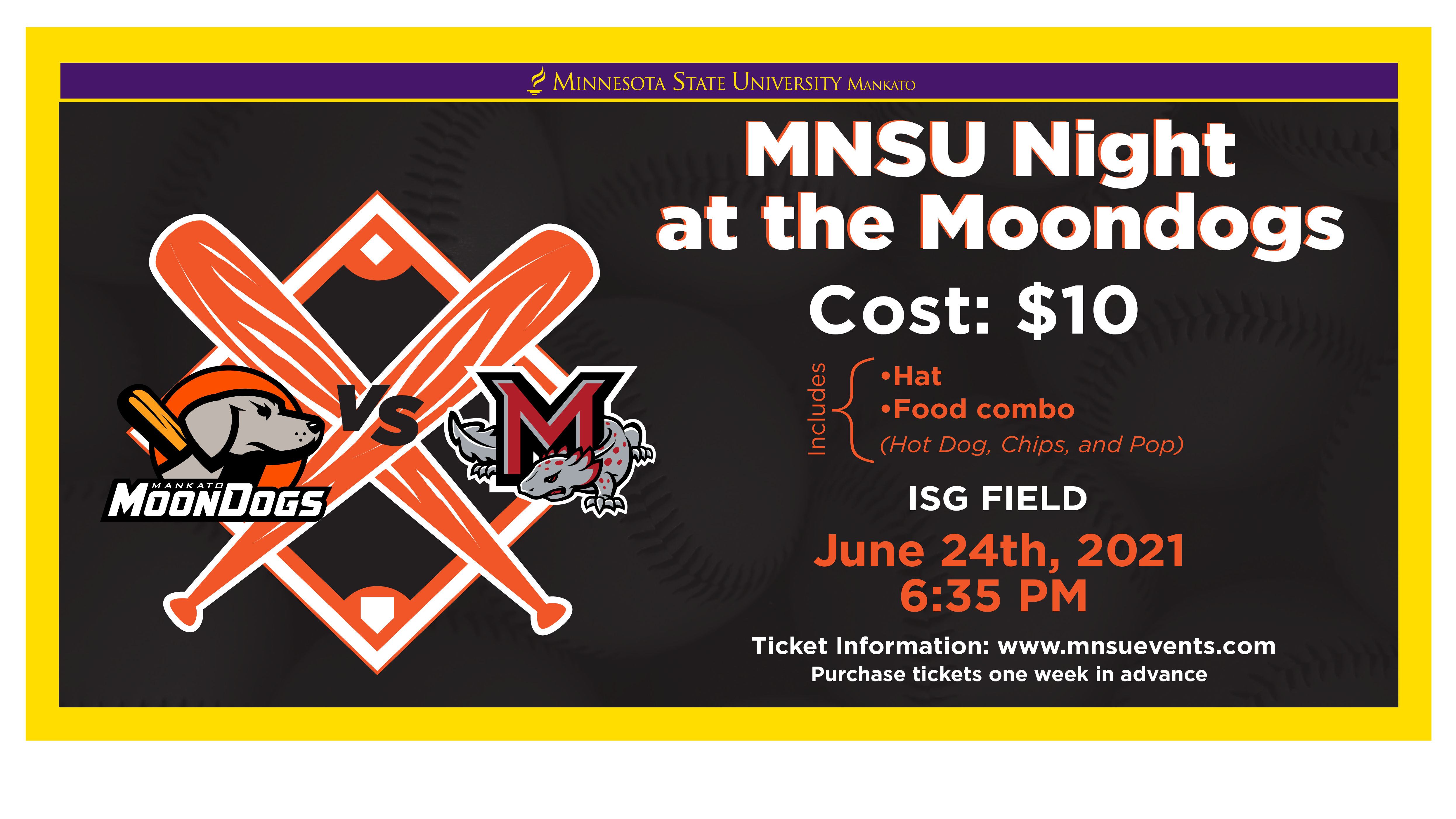 The Student Activities, and the Centennial Student Union is hosting a night at the Mankato Moondogs on June 24, at 6:35 p.m. Minnesota State Mankato Students and Staff can purchase a discounted ticket package for $10.
Admission is $10 with a valid MAVCard. Students are encouraged to purchase their tickets in advance. The admission includes a reserved seat ticket, Moondogs Baseball Hat, and a Meal deal. The Meal Deal includes a hotdog, chips, and pop. Thanks to the Mankato Moondogs this event will be offered at a reduced rate. The package value is over $30.00.
Drive In Movie: Godzilla vs. Kong
FRIDAY, JUNE 18, 2021
9:00 PM - 11:00 PM
PARKING LOT 20

DRIVE IN MOVIE: GODZILLA VS KONG
Date: June 18, 2021 – 9PM
Location: Parking lot 20 near BlakesLee stadium
Details:
The Drive-In movie is coming back to Mankato!
A New and improved 19' x 30' screen will feature a higher quality viewing experience than last years event. Doors open at 8:00pm. Cars can enter Lot 20 South from the entrance on Monks Avenue.
MAVHunt
Explore Mankato MAVHunt
JUNE 1 - JUNE 30TH
GOOSECHASE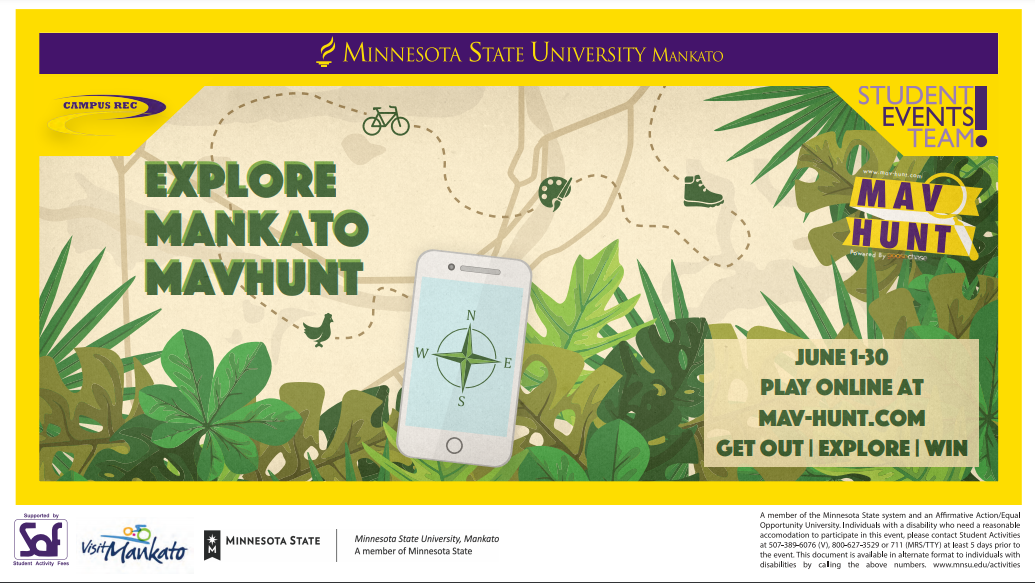 Powered by Goosechase
What: In this virtual scavenger hunt, you will have the opportunity to complete challenges, explore Mankato, and win prizes. Each challenge you complete will earn you points towards prizes.
Prizes: Weekly random winners will get a $50 giftcard and other prizes.
How: Download the goosechase app
Explore Mankato outdoors, win prizes!
Join us for a GooseChase hunt of different locations in and around Mankato! Free to all students! Find your new favorite spot in Mankato!
Some challenges include:
Disc golf
Nature walk
Bike ride
Exploring downtown
Weekly drawings based on the number of challenges completed. Winners will receive a $50 gift card.
To play:
Download the free GooseChase app
Enter Game Code: BL75RE
Start completing challenges and earning points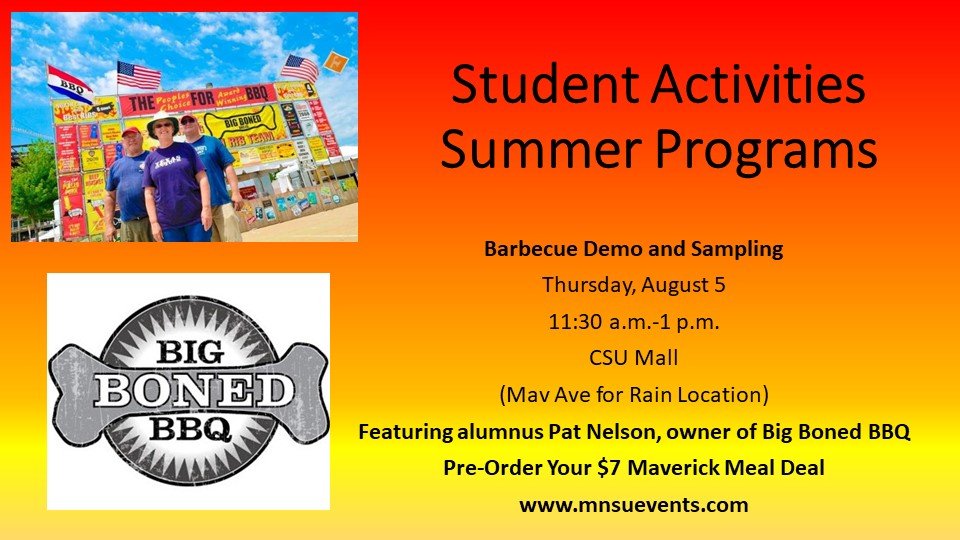 BBQ Demo, Sampling, and Meal Deal
Thursday, August 5
11:30 a.m.-1:00 p.m.
CSU Mall (Mav Ave Rain Location)
Join us on Thursday, August 5, as Pat Nelson, Maverick alum and owner of Charleston, SC-Based Big Boned BBQ joins us for a tasty event. After a year without Mankato Ribfest, Pat and his crew are back to compete. Our event will take place on the CSU Mall, with meal pick-up occurring inside the CSU, near the Mav Ave dining area, in the event of inclement weather.
Maverick Meal Deals will be available for pre-order only and may be ordered here. The demo will start at 11:30 a.m., and meals will be available for pick-up beginning shortly thereafter. Cash or credit card payment may be made at the event.
Meal deals are $7 each, and they include:
Your choice of bbq beef brisket or pulled pork sandwich
Side of coleslaw
Side of cornbread
Additionally, bottles of Big Boned BBQ's award-winning original sauce and rub will be available for purchase for $6 each. Please include everything you would like in your pre-order.
Those placing orders will not receive acknowledgement of their orders until the week before the event. The deadline to place an order is noon on Monday, August 2.