Change of Address
You are required by F-1 regulations to update your local address within ten days of the change. To view or update your local address, simply login to E-services and view the menu on the left. You will first need to click "Account Management" and then click on "Address Info." If your address has changed, please edit your "local address".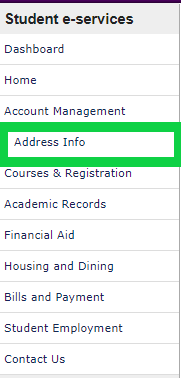 International Address Update
All F-1 and J-1 international students are required by law to report their international address outside the U.S. to the government, and update the government within ten days of any change. The international address can be a relative's or friend's residential address. It cannot be a U.S. address, University department address, or business address.