KMSU Hits Pledge Drive Goal, GM and DJs Shave Heads
RADIO HERO DONATIONS SURPASSED THE SPRING PLEDGE DRIVE GOAL!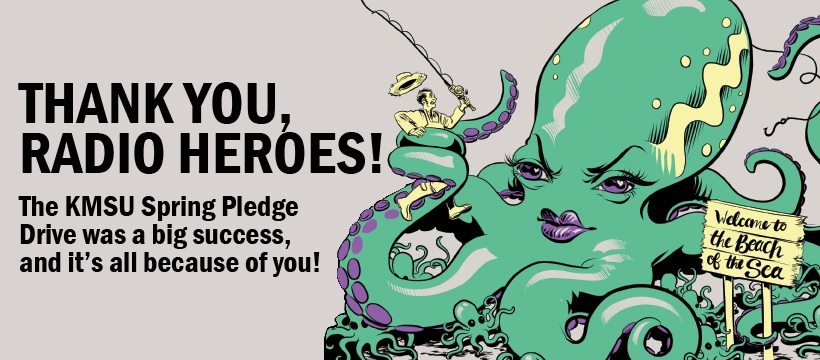 Thank you to all of the Radios Heroes that stepped up and helped KMSU meet its pledge drive goal and then some! Donations hit the goal by 10:30 a.m. on the second to last day of the drive, and they just kept coming through the final day, pushing us well past $30,000 by the end of the final day. We're so grateful for your generosity, and that you believe in what KMSU does. This station is one of a kind, but you probably already knew that. Your gifts are a huge part of our operating budget, and without them we wouldn't be here doing the things that make us so uniquely Mankato and so uniquely KMSU.
You may recall that Shuffle Function Morning Show hosts Shyboy Tim and Shelley vowed to shave their heads if the station hit its goal, and that our General Manager Dwayne Megaw said he would get a buzz cut and shave off his beard if we went past $30,000. Well, they were true to their word. All three of them visited Keith Kreft at The Moulin Rouge Hair Studio and held up their end of the bargain. Anything for this amazing little station!
We're still waiting for the pledge gift information to come back from the number crunching office, and when that happens we'll begin sending out your swag. It will be worth the wait!
Thanks again, Radio Heroes! You're the best.
Your pals,
89.7 the Maverick