The KMSU Fall Pledge Drive Is Coming!
Our Fall Member Drive begins on October 20th!

THE KMSU FALL PLEDGE DRIVE!
Wednesday October 20th - Friday, October 29th
It's that time of year again! The KMSU Fall Pledge Drive begins on Wednesday, October 20th! If you make KMSU a part of your day, we're hoping you'll take a moment and help keep this wonderful little radio station on the air. We're here for you each and eveyr day with the kind of programming you won't find anywhere else, and it's because of support from Radio Heroes like you. Thank you for consistently being the best.
We've been so blessed by your generosity, in particular over this last crazy year and a half. The sense of community that we share with you has been such a gift. In the Spring you went above and beyond, allowing us to invest in song identification technology to capture playlists, and before that you helped us get on-demand program players for our shows. You can see these improvements right now at kmsu.org, and soon we will have song ID tech to dsplay titles on your radio. These long overdue improvements have our listener experience, and for that we thank you. One million times thank you.
This drive our goal is $30,000, which is nothing to sneeze at, but it's what we need to cover basic operating costs at 89.7 the Maverick. In radio, as in real life, there are always other costs, and they inevitably happen when we least expect them. Just last month we had a near catastrophic fail of our audio storage system, which resulted in the loss of many terrabytes of programming, including some archived shows going back years. We were very fortunate that recovery software was able to salvage the shows, but when there's one harddrive failure, you can almost guarantee that another one isn't far behind, and we need to insure that our backups have backups. This, of course, is not cheap.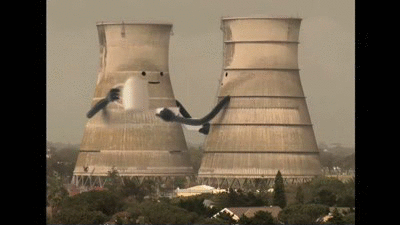 Artist representation of KMSU when audio storage system crashed
In addition to our operating costs, we also have an eye toward the future. KMSU would like to enhance its reach with companion HD radio signals to better serve our community. The programming across all channels of our signal will bring greater diversity and reach to our listening area, and the possibilities are very exciting. Your pledges will help us develop and grow these additional channels.
It goes without saying that we'll have some truly excellent thank you gifts available for you when you pledge, so you'll want to visit kmsu.org, as well as our Facebook, Instagram, and Twitter accounts, for information about that and all the other fun stuff that goes on during the drive. We'll have Shuffle Function Radio Roulette (Oct. 28th), Polka 'Til You Puke (Oct. 29th) and so much more!
Thank you for being the best Radio Heroes in all the land! Together we make great radio.