The KMSU Spring Pledge Drive Swag!
Donate to kmsu and you can get some cool thank you gifts!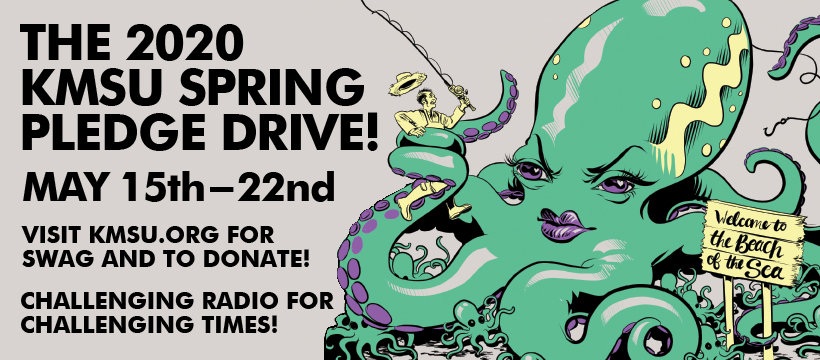 THE SPRING PLEDGE DRIVE STARTS on FRIDAY, MAY 15th!
Gang, the Spring Pledge Drive starts THIS FRIDAY! This is one of two times during the year where we come to you and ask for your generous support to help keep KMSU on the air. We're hoping you'll take some time and make a donation to help us hit our $25,000 goal for the drive. $25,000 is nothing to sneeze at, especially during these uncertain times, but we're true believers in the station and its place in the community.
Please take a moment and consider the place KMSU holds in your life. If you listen to the station regularly, if you've found shows that you know and love, then you're probably a true believer, and you realize that what KMSU offers to you and the community can't be found anywhere else. This kind of programming can only continue with the generous support of our listeners, and we hope you'll give us a call or pledge online to help us out. Any amount makes a huge difference, but we have some great swag available at different pledge levels to hopefully nudge you towards making a contribution. And now the swag!
$25 - 2020 OCTOPUS WOMAN T-SHIRT!
It seems like we're always saying that every shirt that Kat Baumann does for KMSU is the best yet, but that's only because every time it's true! This Spring her design is quite possibly the greatest ever, or at least the best octopus based design ever! Presenting the Octopus Woman Please Let Me Go shirt! Will we ever know exactly what happened at old Fort Bragg? Maybe not, but this shirt vividly illustrates all the clues that we have to solve the mystery. You have the Octopus Woman herself, surrounded by many galore children, on the beach of the sea. It's on a tasteful grey shirt, available in s, m, l, xl, and xxl.

$25 - MANCAMP THE HAMSTER ART PRINT

We've been so fortunate over the last couple of years to have radio assistance from Mancamp, the hamster that runs the KMSU texting machine. Whenever you text your requests (or pledges) to 507-389-5678, they are sent to Mancamp's office. He jumps on his hamster wheel and runs as fast as he can until the text is shot upstairs to the KMSU studios. Mancamp has a pretty posh pad, and it's no exaggeration that he lives like a king, but none of the KMSU staff have ever seen where he works. Amber Rahe, our amazing Grind-Fu Cinema cake artist, has taken all of the known information about Mancamp and created this incredibly detailed portrait of the legend in his home/workspace. You can see portraits of his ancestors, as well as President Kennedy, the hand of Keith Richards delivering his famous bangers and mash, Mancamp's Lifesavers holiday books library, as well as the black ops agents milling around in the background. The attention to detail is impressive, but we'd expect nothing less from Amber.
You can own a signed print of this illustration when you donate $25 to KMSU. Additionally, we will be auctioning the ORIGINAL ART off on Friday, May 22nd, during the Shuffle Function Morning Show. It'll look pretty sweet hanging on your wall!
$25 - CLASSIC KMSU MUG!

The gold KMSU mug is LITERALLY the gold standard of drinking liquid delivery systems. It looks sharp, plus it's the perfect size for holding enough of whatever you're pouring down your throat. Every home needs one. In fact, every home needs a set! Yours for a $25 pledge.
$100 - THE GREATEST MOD & NORTHERN SOUL ALBUM!
In the sixties there were a lot of amazing bands that were heavily influenced by American blues, R&B, and soul music. They were also slaves to fashion. These bands and the people that loved them were known as Mods. Groups like The Who, The Kinks, The Yardbirds, The Creation... any number of "The" bands were not only heavily influenced by this music, but they covered it and reimagined it, too. Many prime examples of this influential sound can be found on The Greatest Mod & Northern Soul Album, a four disc collection of the sounds that lit a fire under the British Mod scene.
You'll find soul legends and obscure should-have-beens, major label blockbusters and one hit wonders, as well as a lot of stuff that will make you wonder how you've lived this long without knowing and loving it. Pledge $100 to add this incredible collection to your music library, and get ready to shake what the good lord gave you!


$100 - KMSU DAY SPONSORSHIP
You can sponsor an entire day of radio on KMSU with this premium. Commemorate a birthday or anniversary, surprise the music geek in your life, treat the new graduate, or celebrate the music of your favorite musician! These are just a few ways that you can use a KMSU Day Sponsorship. A personalized message will also be read throughout the day so the whole world knows that you are a super cool person that supports independent radio!

There's the swag! Drop us a line with questions, but most of all drop us a line with your support! Remember, the 2020 Pledge Drive THIS FRIDAY at six a.m.! Give early and give often!
CALL 389-5678 OR 1-800-456-7810 AND MAKE YOUR PLEDGE, OR MAKE YOUR DONATION ONLINE!
Thanks for being the best listeners in the world!