Oct. 14-25: 'Hair' is next in Theatre Season
Wednesday, October 14, 2020
7:30 PM - 9:30 PM
Opening Night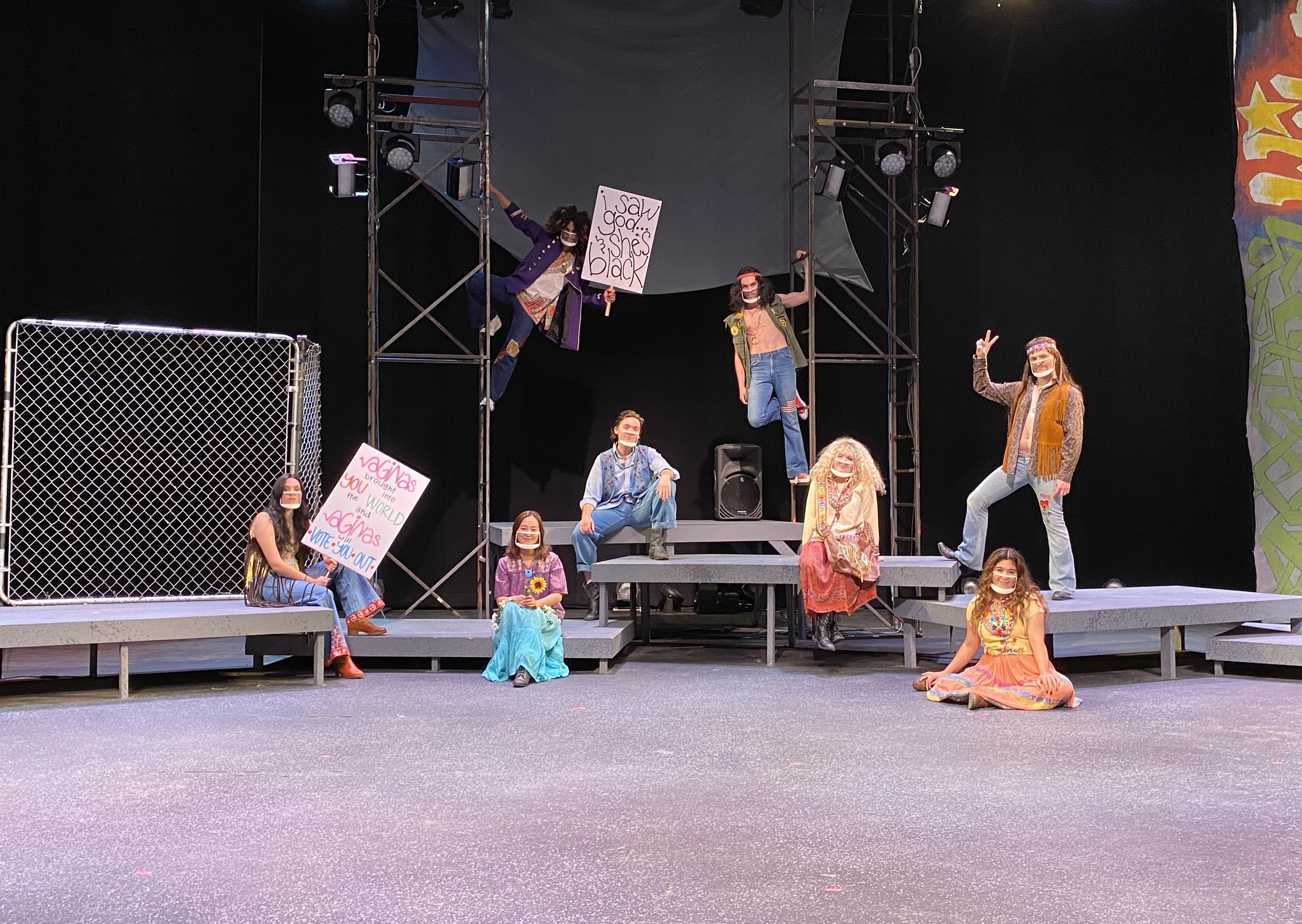 Pictured in the photo are (women, left to right): Chloe Sirbu plays Sheila, Yu Miao plays Crissy, Maddy Morgan plays Jeanie, Sydney Belonge plays Dionne. (Men, left to right): Dre Benson plays Hud, Ben Siglin plays Claude, Ryan Joseph Feist plays George Berger, Jace Gray plays Woof. (Photo courtesy of Minnesota State Mankato's Department of Theatre and Dance.)
Mankato, Minn. – After a three-week pause, Minnesota State University, Mankato's Department of Theatre & Dance continued its 2020-2021 season with "Hair" opening on Wednesday, Oct. 14.
Though first produced off-Broadway in 1967, the theme of social justice is as relevant today as it was when "Hair" first opened. Third-year MFA directing candidate David Loudermilk selected "Hair" as his thesis project as a way to encourage the participants and audience to sit with their discomfort and question ourselves about why we might negatively view those who are unlike us.
Minnesota State Mankato's Theatre and Dance season opened on Sept. 16 for one performance of "Silent Sky," before University administration and department leadership determined that a temporary season suspension was necessary to slow the spread of COVID-19. After multiple discussions and a poll distributed to all students in the department, the decision was made to resume the season after the three-week pause. The remainder of the season will be presented on a condensed schedule, and the goal is to close the Mainstage season with "Mamma Mia!" in April 2021.
"Hair" runs Oct. 14-17 and Oct. 21-24 at 7:30 p.m. and Oct. 17, 18, 24 and 25, at 2 p.m. in the Ted Paul Theatre at the Earley Center for Performing Arts, Minnesota State University, Mankato.
Tickets are $24 regular, $21 for seniors ages 65 and older, children under 16 and groups of 15 or more; and $16 for Minnesota State Mankato's students.