March 30: 46th Annual Douglas R. Moore Faculty Research Lecture
Monday, March 30, 2020
7:00 PM - 9:00 PM
Live stream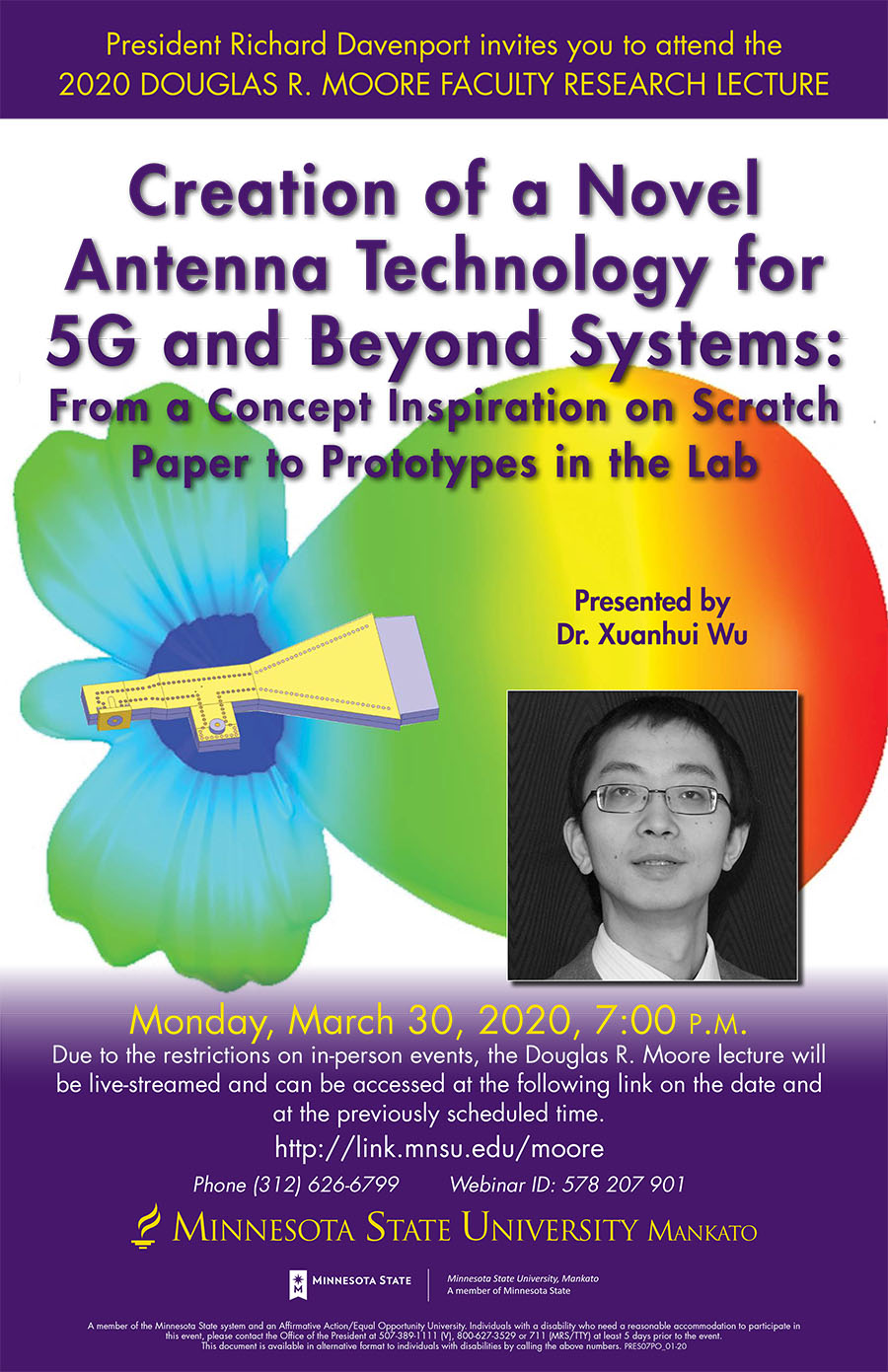 Mankato, Minn. – The 46th annual Douglas R. Moore Faculty Research Lecture at Minnesota State University, Mankato will be delivered this year via an online livestream presentation by faculty member Xuanhui Wu on Monday, March 30 at 7 p.m.

Wu's lecture is titled "Creation of a Novel Antenna Technology for 5G and Beyond Systems: From a Concept Inspiration on Scratch Paper to Prototypes in the Lab."

The presentation is free and open to the public via livestream by logging into http://link.mnsu.edu/moore. When logging in, the Webinar ID number is 578 207 901, and the phone number to use is 312-626-6799.

In a preview of his lecture, Wu, an associate professor in the Department of Electrical and Computer Engineering and Technology in Minnesota State Mankato's College of Science, Engineering and Technology, wrote the following:

"I am honored to be granted this great opportunity to share my latest research discoveries to the audience of Minnesota State University and the community. I will present the invention of a novel antenna technology for the emerging 5G and beyond wireless communication systems. The global market for 5G was $43 billion in 2018 and the number is expected to grow to $700 billion by 2030. The antenna has always been the bottle neck and limits the system performance. Our research group at Minnesota State University, Mankato adopted a unique method to push antenna technology forward. My presentation will show our exciting journey from the creation of the idea to the final prototype of this new antenna technology. The presentation will include concept inspiration, design approaches, the prototyping process, and the measurement procedure. I want the audience to share our passion, curiosity, and the excitement in the creation of this new cutting-edge antenna technology."
For more information about the lecture, please contact Julie Joerg by phone at 507-389-1242 or by email at julie.joerg@mnsu.edu.

The annual Douglas R. Moore Faculty Research Lecture celebrates excellence in research at Minnesota State Mankato. This will be the 46th such lecture, and the 33rd named after Moore, who established the event.

Moore was president of then-Mankato State University from 1974 to 1978. His tenure saw the transformation of Mankato State College into a university, as well as the consolidation of the lower and upper campuses and construction of a new administration building.
Minnesota State Mankato, a comprehensive university with 14,297 students, is part of the Minnesota State system, which includes 30 colleges and seven universities.