Minnesota State Mankato Breaks Ground on Seasonal All-Sports Dome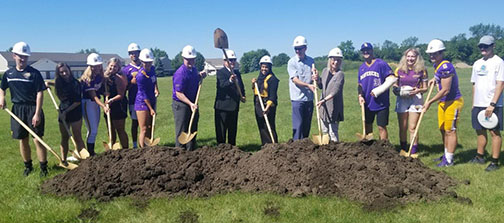 Mankato Free Press coverage
KEYC TV coverage
KTOE radio coverage
Mankato, Minn. – Minnesota State University, Mankato President Richard Davenport and Student Government President Anisa Omar, along with University representatives and community sports, business and government leaders, celebrated the start of construction on the $5.49 million seasonal Maverick All-Sports Dome at a campus groundbreaking ceremony today.
"I first want to thank our students for supporting this exciting new addition to our campus," said Davenport. "The Maverick All-Sports Dome is foremost for our students, and it demonstrates the University's commitment to the health and wellness of all of our students, faculty, staff as well as the local community."
Omar said she is looking forward to the additional student experiences the facility will provide.
"On behalf of Student Government, we are ecstatic that the construction of the Maverick All-Sports Dome is finally upon us," said Omar. "We are happy that we can be a part of something that will assist in the fulfillment and joy of student life on campus, and we are eager for its completion."
The 109,850-square-foot, air-inflated multipurpose facility is expected to open in December. It will provide space for University academic classes, Campus Recreation programs (clubs, intramurals and free play), Intercollegiate Athletics, the Maverick Machine band and other campus clubs and organizations. Local youth and adult sports organizations, area school districts and other colleges will be able to rent the facility.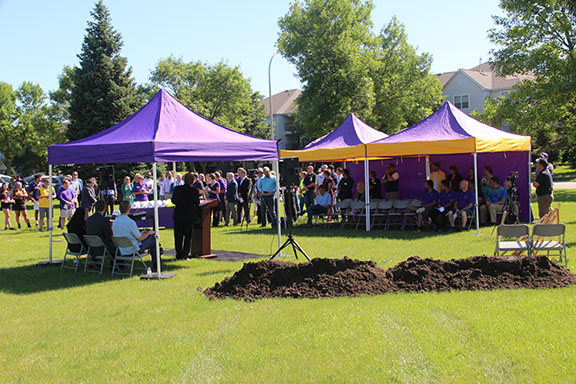 Minnesota State Mankato students voted to help finance the project's construction cost by voting "yes" in a December referendum to an additional student fee of 83 cents per credit, capped at $10 per semester. The student fee contribution and University reserve funds will cover the overall cost of the project.
Community rental fees will provide revenue for operating costs and maintenance. The Minnesota State system's Board of Trustees approved the project in March.
Davenport also announced today that the SCHEELS All-Sports Foundation has provided a $500,000 gift (to be paid over five years) that will help offset the facility's annual operating costs. In exchange, the name of the facility's synthetic turf field space will be "SCHEELS Field at the Maverick All-Sports Dome."
"We're grateful to the SCHEELS All-Sports Foundation for its contribution to this wonderful facility," said Davenport, "and we look forward to a long partnership between SCHEELS and the University."
Mankato SCHEELS Store Leader Brandon Scheel said SCHEELS was proud to support the community need for the new facility.
"SCHEELS is proud to support our community and the Maverick All-Sports Dome," said Scheel. "This facility will provide much needed access for all groups in our region who need additional field time."
No other venue within a 60-mile radius offers similar amenities as will the Maverick All-Sports Dome.
It will provide indoor space each year from mid-October through mid-April and outdoor turf space from mid-April through mid-October.
The facility will be 1-1/2 soccer fields in size (or three small-sided fields) and include baseball and softball batting cages and an attached support building with a check-in and lobby area, bathrooms and storage space.
The facility can accommodate a wide variety of sports, to include soccer, football, softball, baseball, lacrosse, ultimate Frisbee, rugby, cricket and more.
The facility will be located on the Minnesota State Mankato campus at the intersection of Monks Avenue and Woodhaven Circle. Parking already exists, with University Lot 22 providing adjacent access to the facility. Parking at the facility will not impact or change access to the University free lot (Lot 23).
ISG is the design architect for the project, and the contractor is Kraus-Anderson.
Minnesota State Mankato, a comprehensive university with 14,227 students, is part of the Minnesota State system, which includes 30 colleges and seven universities.