Drop & Go
---
A decision has not been made for Drop & Go in 2022.

We will post updates here when a decision is made.

---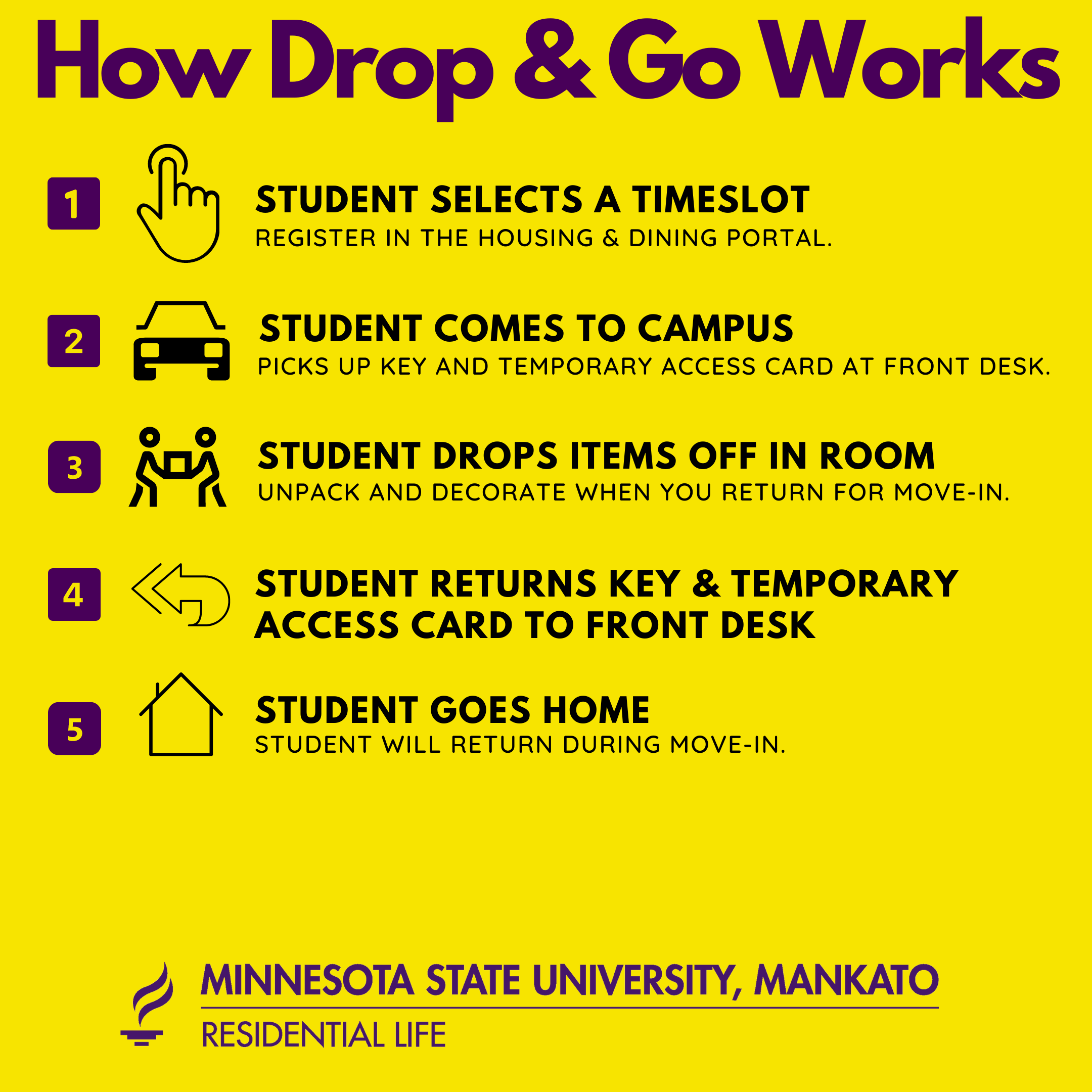 ---
Maximizing Drop & Go

Use your timeslot to see your room and drop off belongings. Unpack and decorate when you return for Move-In. Consider coordinating your timeslot with your roommate (same day/time).
While you're on campus, use this time to:
Pick up your textbooks and tech gear with special store hours at Barnes & Noble and the Campus Computer Store.
Take measurements (if needed) for additional items you anticipate bringing.
Make a list of items that you need to get prior to Move-In.
---
What Items Should I Bring?
We recommend bringing the big, bulky items such as:
| | | | | |
| --- | --- | --- | --- | --- |
| Futon | Microwave | Mini Fridge | Bedding | Clothing |
You will have time to do minimal setup in the room, so this is a good chance to assemble the futon and arrange the room in a way that's going to work for you. Doing these things will save you time and stress when you move in.
---
Timeslots
Students will be eligible to choose one timeslot (times listed below). Participation is optional.
Stadium Heights residents do not need to sign-up for a Drop & Go timeslot. Fall residents may show up anytime between the hours of 9 a.m. and 6 p.m. on either day.
| | | |
| --- | --- | --- |
| 9-11 a.m. | 1-3 p.m. | 4-6 p.m. |
---
How to Register
Students will be able to select their timeslot in the Housing & Dining Portal beginning Wednesday, July 14.
After logging in, select Forms and then click Arrival Planning.
When a student successfully signs up for Drop & Go, a confirmation email with further information will be sent to their on-file email addresses. If the student does not receive this, contact our office.
---
Parking/Unloading
| | |
| --- | --- |
| Crawford | Lot 14 Green stalls only |
| Julia Sears | West Road west curb, Lot 11, Lot 11A |
| McElroy | Lot 15, Ellis Avenue west curb, Lot 14 for E Hall, Lot 16 Green stalls |
| Preska | Ellis Avenue west curb, Ellis Avenue east curb, Lot 15, Lot 16 |
| Stadium Heights | Outside individual buildings |
| ***Trailers | Ellis Avenue curbs, West Road curbs, curb east of C Hall, Lot 16 |
---
When you Arrive
Upon arrival, each student should bring a photo ID to the Front Desk (of their assigned residence community). Family/friends should wait at the vehicle while the student checks in.
Masks must be worn at all times in hallways, stairwells, lounges, and the floor kitchen (unless actively eating).
---
Services Open during Drop & Go
Residential Life Office: Open both days between 9 a.m. and 4 p.m. in 111 Carkoski Commons.
Campus Computer Store: Open from 10 a.m. to 4 p.m. both days in the lower level of the CSU.
Barnes & Noble Campus Bookstore: Open from 10 a.m. to 4 p.m. both days on the main level in the CSU. Pick up your textbook pre-orders, shop for books, and pick out your favorite Maverick gear!

It is suggested that you pre-order books no later than August 6th. Click the "Order Textbooks" link in your E-services account.

Jazzman's Cafe & Bakery (Centennial Student Union): Open from 10 a.m. to 4 p.m. Grab a hot or cold beverage and snack while on campus!
Frequently Asked Questions