Maverick Diversity Institute (MDI)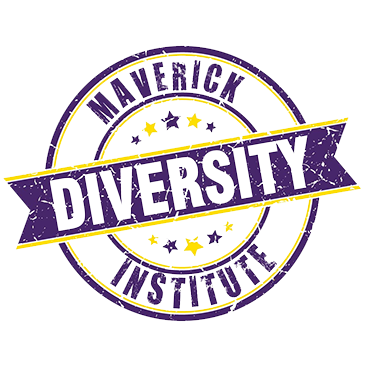 The Maverick Diversity Institute offers challenging and unique workshops and programs that will help you to become knowledgeable on inclusivity, access, and equity in your workplace and classroom environment. Participate in four (4) session and get a Linkedin badge! Studens who participate in four (4) sessions get a Linkedin badge and a Maverick Diversity Institute sweatshirt!
All questions about the Maverick Diversity Institute should be directed to Liz Steinborn-Gourley at elizabeth.steinborn-gourley@mnsu.edu or the Maverick Diversity Institute email at diversityinstitute@mnsu.edu.


Follow the MDI's Social Media:
Facebook - Maverick Diversity Institute - Minnesota State Mankato
Youtube - Maverick Diversity Institute Minnesota St. Mankato
Spring 2022 MDI Events
Click here to register for the spring 2022 MDI sessions.
Equity In Strategic Planning with Amy Moreno-Sherwood
Jan 18, 12:00 - 01:30 PM
Join Amy for example of centering equity in strategic planning.
Addressing the Opportunity Gap with Dr. Henry Morris and Dr. Laura Jacobi
In-person: CSU 253/4/5
Microaggressions And Intersectionality with Student Body President Reauna Stiff, Prof. Dani Scott, Pakou Lee, Shadow Rolan, and Idman Ibrahim
Feb 01, 11:00 AM - 12:00 PM
In-person: CSU 201
Join students Reauna Stiff and Idman Ibrahim, with Professor Dani Scott, and Asian American Affairs Director Pakou Lee, and Violence Awareness and Response Program Director Shadow Rolan for a panel discussion on the reality of microaggressions on our campus and how intersectionality amplifies these challenges for women of color.
Chancellor's Fellows, Dr. Crapo Kim and Dr. Ajay Panicker, Present for Equity 2030
Feb 10, 03:00 - 04:00 PM
Chancellor's Fellows Dr. Ruthanne Crapo Kim and Dr. Ajay Panicker, will present their research for Equity 2030 and emphasize the importance of making academia more equitable. They will also discuss culturally responsive teaching practices.
Pain. Power. Honor. Does it Hurt Enough to Change? Antiracism and Universal Design with Andratesha Fritzgerald Featured as part of the 46th Annual Dr. Michael T Fagin Pan-African Conference
Feb 25, 02:00 - 03:30 PM
Author of "Antiracism and Universal Design for Learning" Andratesha Fritzgerald will be a featured speaker of the 2022 Pan African Conference. Register for the whole conference or just for Andratesha's presentation. Copies of her book will be on sale at the event.
Intersectional Accessibility in STEM with Dr. Lisette Torres-Gerald
March 17, 12:00 - 1:30 PM
Dr. Lisette Torres-Gerald is widely published on the topic if disability and STEM. Join her to learn more about intersectional accessibility in STEM.
Hayden Kristal and the Importance of Intersectional Activism (sponsored by the LGBT Center)
March 21, 07:00 - 08:30 PM
Hayden Kristal (preferred pronouns they/them/theirs, but accepts anything said with good intent) is a Deaf, bisexual, Jewish, queer activist and stand-up comedian. This keynote, which is taking place in CSU 253/54/55 or via Zoom, explores what it means to live life at the intersection of multiple marginalized identities and why acknowledging the complex and multifaceted nature of human identity is critical to any kind of social justice work. In the realm of speaking and activism, Hayden has been a TEDx Presenter, a Catalyst Award winner, and a Lavender Graduation commencement speaker; comedically, Hayden was a semifinalist for Stand Up NBC, a finalist for Full Frontal with Samantha Bee's Comedy Writing Mentorship, a featured performer at Limestone Comedy festival, and has opened and featured for Maria Bamford.
Microaggressions: Words Have Impact with Dr. Timothy Berry, Dr. Chris Brown, and Kenneth Reid
March 24, 01:00 - 02:30 PM
Join Dr. Timothy Berry, Dr. Chris Brown, and Kenneth Reid for a conversation about the impact of microaggressions on our students and the ways we can address our own microaggressive ways and call in our colleagues and peers who do the same.
Violence Free Zone Training with Shadow Rolan
April 6, 01:00 - 02:00 PM
In-person: CSU 201
Join Shadow Rolan, interim Director of the Violence Awareness and Response Program to learn more about the pervasiveness of domestic and sexual violence and how we can create a community dedicated to ending violence.
Anti-Racist Pedagogy with Dr. Bernadeia Johnson
April 14, 12:00 - 01:00 PM
Dr. Bernadeia Johnson has been a career-long educator. Join her to explore how to develop your own antiracist pedagogy.
Cross Cultural Customer Service with Alissa Morson and Blake Litzau
April 19, 10:00 - 11:30 PM
Alissa Morson and Blake Litzau from the Kearney International Center will provide information about ways we can honor the culture of the students we serve.