Maverick Carnival - Postpone
Wednesday, September 11, 2019
6:00 PM - 10:00 PM
Performing Arts Lawn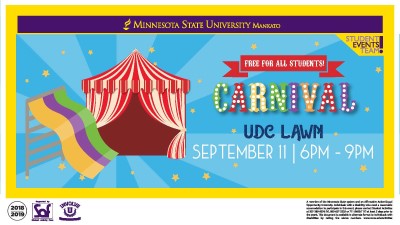 This event has been postponed due to weather. A new date will be announced soon.
Maverick Carnival brings students together for a night of fun and games
MANKATO, Minn. –The Student Events Team will be hosting a Maverick Carnival to unite the Maverick community through carnival games, prizes and food on Wednesday, September 11 from 6-9 p.m.
This carnival will include a giant slide, local tarot card readers and other classic carnival games with prizes such as live goldfish. Minnesota State University, Mankato, students will receive free admission to the event with their MavCARD.
The event will take place on the Performing Arts lawn adjacent to the Jane Earley Perfoming Arts building. This is the first time the Student Events Team has held a carnival of this magnitude as well as having the slide from North Mankato Fun Days on the Minnesota State Mankato campus.
Creator of the event and Special Events chair, Brooke Stangret stated, "I've always wanted to bring a carnival ride to campus. This event will allow students to meet new people in a friendly environment."
For more information please contact Special Events chair, Brooke Stangret, by phone at 612-875-2931 or by email at brooke.stangret@mnsu.edu.