Maverick Mondays
Monday, April 29, 2019
11:00 AM - 1:00 PM
CSU Mall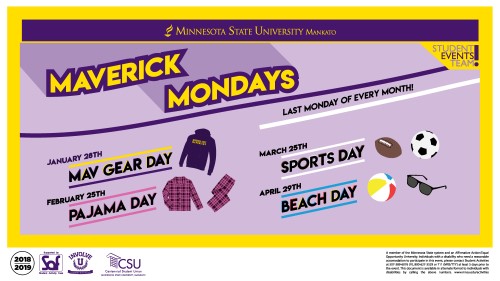 Ready for summer Mavericks? With warm weather just around the corner, what better way to get into the spirit than dressing up in some beachy gear! Come to the CSU Mall for fun beachy themed food and prizes.
Maverick Mondays is a time to celebrate your Maverick Spirit through wearing Maverick Gear.
The last Monday of each month in Spring 2018, will be a Maverick Monday.
Traveling pride squads will be handing out giveawys to those participating or join them 11am - 1pm on the dates and lcoation below.