Maverick Mondays
Monday, February 25, 2019
11:00 AM - 1:00 PM
Hearth Lounge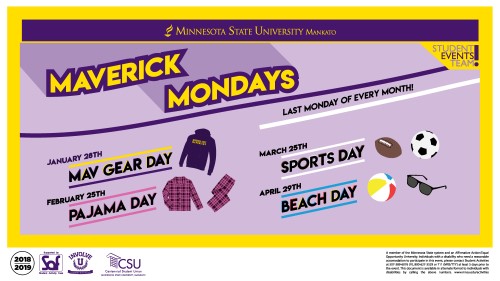 Maverick Mondays is a time to celebrate your Maverick Spirit through wearing Maverick Gear.
The last Monday of each month in Spring 2018, will be a Maverick Monday.
Traveling pride squads will be handing out giveawys to those participating or join them 11am - 1pm on the dates and lcoation below.
February 25 11am - 1pm
Purple and Gold PJs - CSU Hearth Lounge
March 25 11am - 1pm
Athletic Gear - Myer's Fieldhouse (Caribou/Einsteins)
February 25 11am - 1pm
Beach Day - CSU Hearth Lounge