Minnesota State Mankato Night at the Moondogs
Thursday, June 24, 2021
7:05 PM - 10:00 PM
Franklin Rodger Park - ISG Feild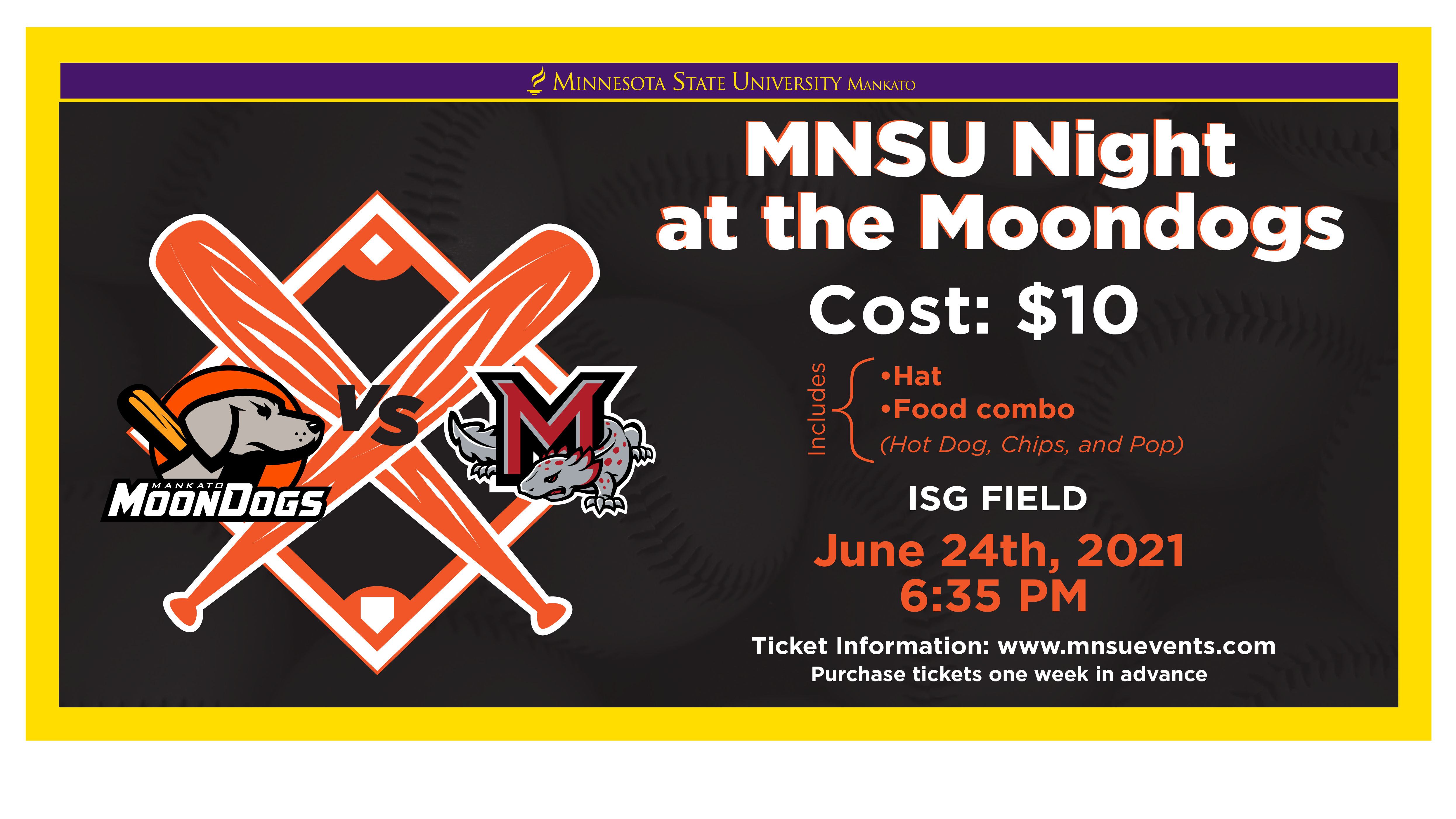 The Student Activities, and the Centennial Student Union is hosting a night at the Mankato Moondogs on June 24, at 7:05 p.m. Minnesota State Mankato Students and Staff can purchase a discounted ticket package for $10.
Admission is $10 with a valid MAVCard. Students are encouraged to purchase their tickets in advance. The admission includes a reserved seat ticket, Moondogs Baseball Hat, and a Meal deal. The Meal Deal includes a hotdog, chips, and pop. Thanks to the Mankato Moondogs this event will be offered at a reduced rate. The package value is over $30.00.
"I love Baseball in the summer. We are excited to partner with the Moondogs to let Mavericks experience summer baseball in Mankato," said John Bulcock, Assistant Director of Student Activities.
Tickets are limited and on a first come first serve basis. Tickets are available for purchase online at mnsuevents.com or in-person at the Student Activities office. The Student Activities office is located in the Centennial Student Union in room 173. Limited tickets may be available day of for purchase at the Moondogs ticket office.
The Mankato MoonDogs have been the winningest team in the Northwoods League over the past 10 years. Since 2011, they have reached the Summer Collegiate World Series three times, and will look to capture the city's first championship in 2021.
For more information on this event contact Student Activities, Emi Menk, by email at Emi.menk@mnsu.edu or by phone at 507-389-6076.