Apply for the Student Leadership Retreat
The 1st weekend in February 2019
The Student Leadership Retreat is an annual program during the spring semester. It is a weekend-long, interactive experience grounded in 'The Student Leadership Challenge' by Kouze & Posner, which highlights 5 Practices of Exemplary Leadership. Student participants will engage in activities and conversation around these practices, and leave the weekend with not only a better understanding of their own leadership, but with new friendships and renewed energy.
Our 6th year hosting this retreat, we only have room for 35-40 student participants. The application deadline is 5 p.m. on Friday, December 7. We will extend invitations to selected participants the next day. If you have questions, email us: leadershipu@mnsu.edu with "Leadership Retreat" in the subject line.
For a glimpse into the experience, visit the Facebook page! To apply, complete the online application.
2018 Student Leadership Retreat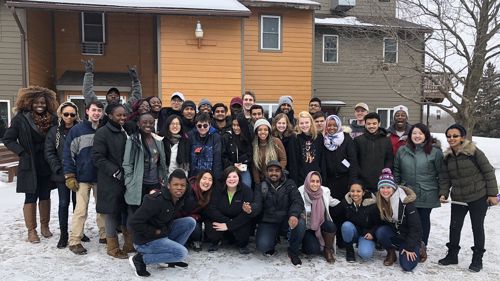 2017 Student Leadership Retreat
2016 Student Leadership Retreat