Competitions Scoring
Socring for 2019 competition teams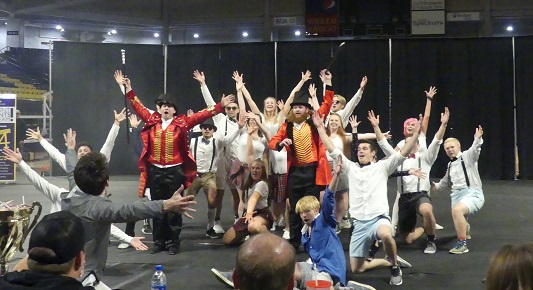 Overall Point System for the 2019 Homecoming Competition
MAVS on the MALL (Max 200 points)
Dunk Tank – Students have a chance to dunk their friends. Team will receive 50 points for each person that sits for a max of 5 minutes or two drunks. Only 2 people from each team can be enter for points. Teams will receive 100 points if they can get their Advisor/chapter Advisor/RSO Advisor/Hall Director to sit on the dunk tank for a max 5 minutes or two drunks.

Maverick Spirit Booth (Max 105 points)
Each team will receive 40 points for entering up to 3 pictures with up to 5 people per picture. Pictures must be taken at the designated photo booth at Mav Ave. Some props will be provided; nevertheless, teams are encouraged to bring their own. Teams are expected to dress up in their best maverick gear and take a picture at the photo booth. Teams are encouraged to take more photos with other teammates and students to participate not for points. Points will be given to the top three pictures demonstrating Maverick Pride in each division.
First Place - 30 points
Second Place - 20 points
Third Place - 15 points
Dodgeball Tournament (Max 100 points)
Each team will receive 50 points for entering a team of six people. Only one dodgeball team will be allowed to participate per competition team or non-competition team. The
For the first-round teams will choose one player from their team as a "Grenade." You may change your "Grenade" at the end of each game. As soon as the "Grenade" is hit that team loses and the game is over. The top two finishing teams (how far they got in the bracket) will receive points.
First Place (Overall) – 50 points
Second place (Overall) – 30 points
Food Eating Contest (Max 120 points)
Each team that enters will receive 40 points for each participant (max two participants). Points will be awarded to the top three finishers:
First Place- 25 points
Second place – 15 points
Third Place – 10 points
Rules: There will be four rounds consisting of three heats, one for each division, and then the final round. Two winners from each division will compete in final round. Contestants must remain seated at all times. They cannot use their hands or any other tools. Each plate must be completely eaten. One judge will determine the winner of each round. Two judges will monitor for interactions. Judges decisions are final.
PARADE ENTRY (Max 300 points)
The parade is Saturday, October 5, 2019 at 12 p.m. Lineup starts at 10 a.m. Look for signs and future information about the parade. Teams that enter a float or parade unit will earn 100 points for participation. All teams must fill out a separate registration form specifically for the parade.
Earning Points As stated above, each team will earn 100 points for entering a float, car, or marching/walking unit. Teams can earn additional points based the following:
Correlation to Homecoming Theme 30 points
Originality and Creativity 20 points
Quality of Work 50 points
Additional points will be given to the top three entries:
First place entry 100 points
Second place entry 75 points
Third place entry 50 points
Lip Sync Contest (Max 250 points)
Each team will earn 150 points for participating in this event.
Additional points will be given to the top three teams:
First Place 100 points
Second Place 75 points
Third Place 50 points
Homecoming Royalty Points (Max 320 points)
Royalty Candidate Sponsorship
All Royalty applicants will need to submit an application. A group of judges will narrow down the applicants to a minimum of 10 candidates regardless of gender. Candidates must be sponsored by a competition team.
Points
Teams will receive 100 points for submitting two candidates
Teams will receive 75 for each candidate that is chosen for the homecoming court (max 2 candidates).
A team will receive 70 points (additional) if one or both are crowned as Homecoming Royalty.
Each team may enter only two (2) candidates gender doesn't matter.
Additional Notes:
Any infractions of the rules or regulations outlined in this packet will result in the loss of points or disqualification from the Homecoming competition. In the event of an infraction, the Student Events Team and Homecoming Committee reserve the right to determine the point loss or disqualification.
Student Activities reserves the right to address any improper behavior including, but not limited to, deducting points.
In the event of a tie, the Student Events Team shall decide the winner based on contribution to Homecoming in the areas of enthusiasm, effort, and participation. The Student Events Team's decision will be final.
There will be a mandatory team meeting Friday, September 27st at 3:00 p.m. in CSU 173 (Student Activities Office).
Please refer to the official Homecoming website at www.mnsu.edu/homecoming for more information regarding rules and event details.
All Homecoming events are held in wheelchair accessible facilities. Anyone needing special assistance should contact the Student Activities office at 507-389-6076 at least 48 hours prior to the event. MN Relay: 1-800-657-3789 (MRS/TTY).


Points:
A total of 1,395 points are possible for team in each of their divisions.
Team Applications
Royalty Applications
Parade Registration
Dodgeball Registration