Free Form Freakout Presents an Evening of Experimental and Improvised Sound
Saturday, October 10, 2020
7:00 PM - 11:00 PM
Arts Center of Saint Peter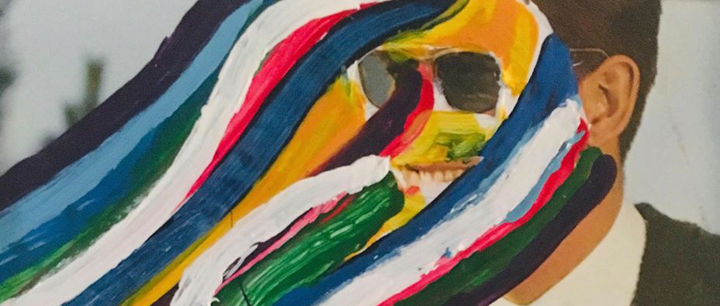 KMSU'S Free Form Freakout presents "An Evening Of Experimental & Improvised Sound" featuring Dan Melchior, Andrew Weathers, John Saint Pelvyn, and Iceblink on Saturday, October 10th. Doors open at 7:00 p.m. for a pre-show reception with cash refreshments provided by Patrick's on Third and Morgan Creek Vineyards. Performance begins at 7:30 p.m. Admission is $10 at the door, no advance sales. Please contact if traveling from outside of the area.
Dan Melchior:
"Dan Melchior has become an unlikely 21st century experimental music icon. As the forms, signifiers and 'experiments' of the last several decades have become increasingly codified, one naturally begins to ask the question what the term in a contemporary setting means to the listener. If the performer and the audience both know what to expect before, during and after a record or performance, can it be considered an experiment? At the start of the century, Melchior was known in NYC as being a studied garage rock provocateur with songwriting palate that was equally insightful, vicious and emotive. This is not mentioned for alt rock bravado but to establish a pedigree that none of his immediate peers can claim, clearly showing a breadth of skill and technique they lack or refuse to engage in. Over the last ten years however, Melchior has continued to strip the edges off his music. On his new album ["Melpomene" from 2017], Melchior finds himself removed from any established school of sound. At times caustic, dubbed out and/or haunting, Melchior recalls obscure records we've never heard..." ~Steve Lowenthal
This will be rare opportunity to catch Dan Melchior perform his more abstract sound work within a live setting!
https://danmelchior.bigcartel.com



Andrew Weathers:
Andrew Weathers (b.1988) is a composer and improviser originally from Chapel Hill, NC currently based in Littlefield, TX where he is engaged in a long-term project to renovate a storefront downtown. His music engages with notions of place, tradition, repetition, and spirit, taking cues from folk, experimental, and punk lineages. He studied composition at UNC-Greensboro and electronic music at Mills College in Oakland, CA. His work is focused on world-building, using art as a vehicle to create the world we want from what we have. Weathers primarily performs and records solo and heads up the utopic chamber-folk group Andrew Weathers Ensemble. He also works regularly with Tethers, Real Life Rock & Roll Band, Satin Spar, and Common Eider, King Eider, among others. Over the past decade of intense activity, Weathers has collaborated or studied with numerous figures of experimental music including Pauline Oliveros, Fred Frith, Roscoe Mitchell, Tatsuya Nakatani, Eugene Chadbourne and many others. In addition to maintaining a busy performance and recording schedule, Weathers helps run Full Spectrum Records, a boutique label founded in 2008 focusing on limited editions of interesting work from the underground. He is also a producer at Other Minds Records in San Francisco, working to release new and archival works by luminaries of New Music. Weathers additionally works as a freelance mixing and mastering engineer out of his West Texas studio, Ordinary Dude Recording Services and is a member of the Industrial Workers of the World.
https://andrewweathers.bandcamp.com
https://fullspectrumrecords.bandcamp.com
John Saint Pelvyn:
Guitarist, singer, and player of some species of dismantled electrified folk, John Saint Pelvyn is a musical enigma of the best kind. At the root of his playing is something akin to fingerstyle blues, but rich with quivering whammy bar wobble and shimmering feedback which he seems to harvest from the air using his guitar like a musical dowsing rod. His playing is often interwoven with melodies sung in a haunting countertenor or occasionally slashed through by unnerving theremin squelches, an instrument he plays with a raw unschooled furry that has drawn comparisons to Beefheart's approach to clarinet. One also finds an affinity for the likes of Robby Basho or Loren Mazzacane-Connors here, but this music is perhaps best likened to cinematic landscapes; sometimes harsh, sometimes otherworldly, but often as delicate as a hummingbird's wing.
https://johnsaintpelvyn.bandcamp.com
Iceblink:
"Iceblink is a homespun, intimate project conjured by Lynn Avery in Minneapolis. As a trans woman, everything she creates is about her experience and Lynn describes [her latest release] "Carpet Cocoon" as her comfort album, music to retreat to in the winter. Informed by her passion for mixtapes, oddities and crate digging blogs, the album is eclectic yet cohesively spun around the aesthetic of a bedroom new age album. Sonically, it has a fuzzy and rounded vibe incorporating nylon string guitars through vocoders, textural Prophet synthesizers, flutes and filtered saxophone. The effect of "Carpet Cocoon" is stunning and personal, melancholic yet idyllic, a spiritual ritual of baths for lying on your bedroom floor."
https://iceblink.bandcamp.com

This concert is made possible by support from the State Arts and Cultural Heritage Fund, as appropriated by the Minnesota State Legislature to KMSU Radio.