Shuffle Function 24 Hour Pledge Drive A-Ghoul-Ghoul
Thursday, October 29, 2020
6:00 PM - 6:00 PM
KMSU Radio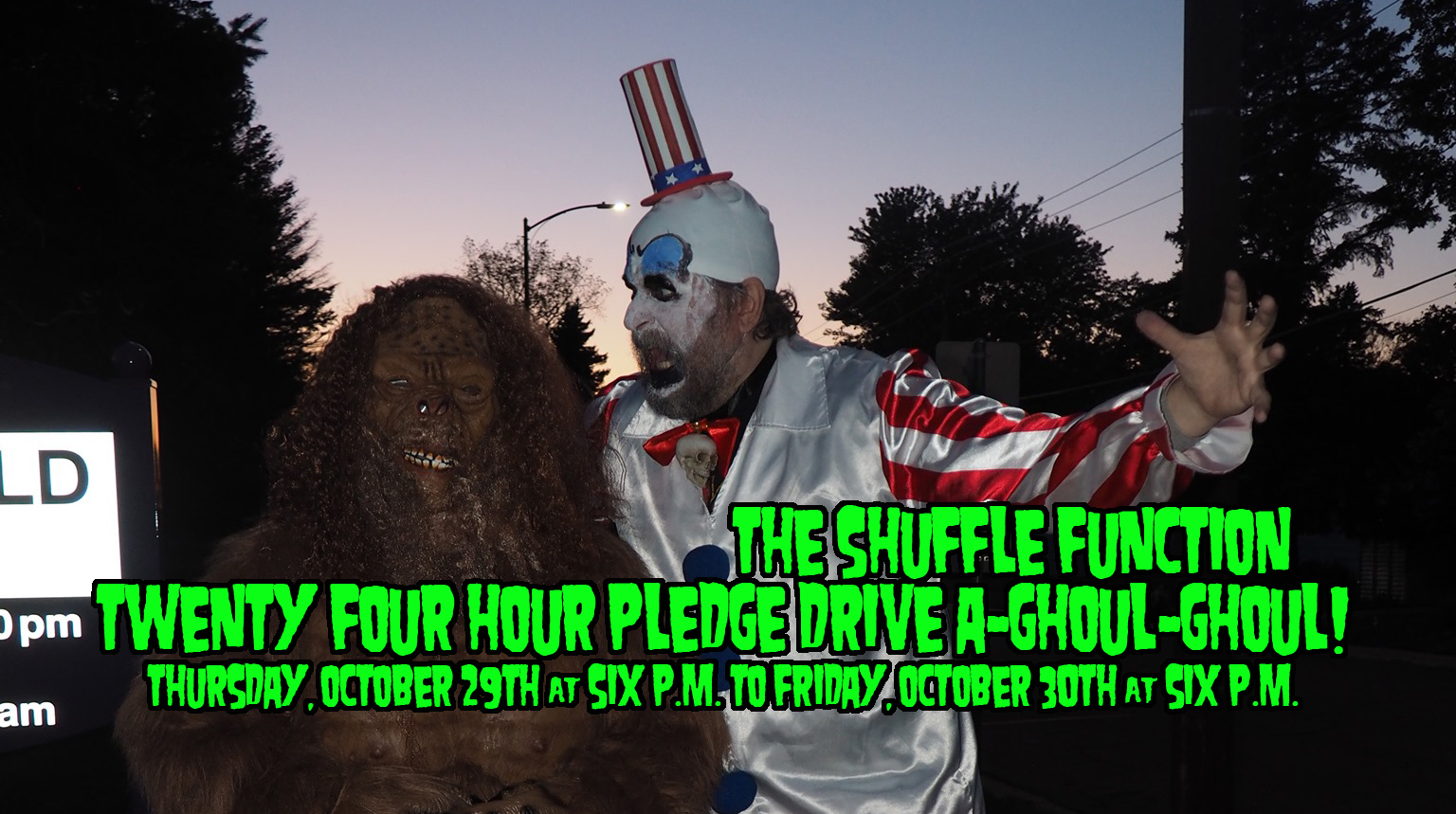 Shuffle Function Morning Show hosts Shyboy Tim and Shelley will do whatever it takes to make sure KMSU has a successful pledge drive. This is most evident when they do their annual Shuffle Function 24 Hour Pledge Drive A-Go-Go, a sleep deprived radio marathon fueled by caffeine, Rock and Roll, and the generosity of KMSU listeners. Usually it's held during the Spring Pledge Drive, but COVID-19 had other ideas, so it had to be postponed until KMSU could be sure that everyone involved could be safe for the long haul. Finally, that day has arrived.
For the first time ever, the annual Shuffle Function radio marathon will take place in the fall, beginning on Thursday, October 29th @ six p.m. and ending on Friday, October 30th @ six p.m. Because Tim and Shelley love Halloween so much, they've rechristened it the Shuffle Function Twenty Four Hour Pledge Drive A-GHOUL-GHOUL, and they'll be filling it with all kinds of Halloween weirdness. They have all kinds of fun things planned for the marathon, including live music, lots of vinyl, Shuffle Function Radio Roulette, and their annual Polka 'Til You Puke show. Will they survive? Tune in and find out, and while you're listening you should make a pledge!
They'll have lots of unique thank-you gifts available when you pledge, so stay tuned to further details! There's some pretty fun stuff that you won't want to live without. If you have any questions about the pledge drive or the radio marathon, e-mail Shuffle Function at shufflefunction@hotmail.com. They love the station and they love pledge drives, so you're likely to get an inbox full.
Thanks for all of your support, Radio Heroes! You're the best in the biz, and we look forward to hearing from you.
Listen at KMSU 89.7 fm/91.3 fm/kmsu.org, or as your smart speaker to play KMSU Radio.
THE SCHEDULE OF EVENTS:
SHUFFLE FUNCTION RADIO ROULETTE!
Thursday, October 29th @ nine p.m. and Friday, October 30th at noon!
The game so nice we play it twice! Tune in for two intense rounds of Shuffle Function Radio Roulette. We draw numbers to pick the record we play, flip a coin to select the side, and roll a ten sided die to determine the song we play. IT'S COMPLETELY RANDOM RADIO!
We have no idea what the radio gods have in store for us. Sometimes it's one of the greatest hours of radio ever produced, and other times it makes you curse the birth of Marconi. Either way, Radio Roulette is full of surprises, so don't miss it!
JANDEK: SOUNDS OF INSOMNIA
Friday, October 30th @ two a.m.
Why two a.m.? Because two a.m. is the perfect time for Jandek, whose songs really inhabit that murky and mysterious hour, taking you to a haunted and personal place. We've been featuring Jandek: Sounds Of Insomnia for a number of years now, and it's always one of our favorite parts of the marathon. We turn off all the lights in the station, leaving only the faint glow of the control board and the strobe of the telephone light when it rings. We encourage you guys to tune in, particularly if you aren't already a Jandek initiate. This could be the time that it all finally clicks.
SUNRISE WITH SUN RA
Friday, October 30th from 4 - 5:30 a.m.
Four years ago we set aside an hour for Gary Campbell (aka Maverick Slim) to come in and do an all Sun Ra set, but an hour just wasn't enough time. That's why we've set aside even more time for Sunrise With Sun Ra! It's a great way to get your bearings before we head into...
POLKA 'TIL YOU PUKE
Friday, October 30th from 6 - 9 a.m.
For as long as we've been doing the Morning Show we've been doing Polka Til You Puke, and for every single one of those shows we've been joined by Concertina Hall Of Famer Ambrose Kodet. He brings over 70 years of concertina playing chops to the show, plus an amazing wealth of knowledge regarding regional Polka history. Honestly, we drop the needle on any one of the countless Polka records we have up here and Ambrose can tell us all about the band. It's incredible.
For the first time ever, we're doing Polka Til You Puke during the Radio Marathon, and we couldn't be more excited about it. Ambrose will be kicking out the jams on the Concertina, and we'll be joined by professional Polka fans Maude and Katie Jo, who'll bringing their total Polka love to the airwaves. Get ready for three hours of Polka to either start your day or celebrate making it half way through the marathon!
THE ALL VINYL MORNING SHOW!
Friday, October 30th from 9 a.m. to noon
We are going to play nothing but vinyl for three hours Friday morning from nine to noon! It wakes us up, plus it gives us a chance to dig into some things that might not normally make the playlist. We've been working to find some real gems, including some new Record Store Day finds, to play for you guys that morning, and hopefully the playlist will convince you that KMSU is a pretty special place on the radio dial.
At some point we'll also be doing the MacArthur Park sing along, so start flexing those pipes and get ready for the broadway style breakdown!
BEE BALM FIELDS! LIVE IN STUDIO!
Friday, October 30th @ one p.m.
We're thrilled to be welcoming Bee Balm Fields to the KMSU Studios to give us a musical shot in the arm! They have been guests on the Morning Show before, and they always knock it out of the park. If you aren't familiar with their music, check out the above video of Laura from Bee Balm Fields when she joined Chuck and Edgar on MN Music Network in 2017. It's great stuff!
THE ARTISTS FORMERLY KNOWN AS THE FRYE!
Ann Rosenquist Fee & Joe Tougas
Friday, October 30th @ four p.m.
It's always a thrill to be joined by Ann Rosenquist Fee & Joe Tougas, the only authorized Shyboy Tim and Shelley impersonators, during the marathon. We always have a good time when they drop by, especially at the tail end of all Pledge Drive A-Ghoul-Ghoul, when the mind is foggy and everything's just a little bit weirder and funnier.
LIVE ART BEING CREATED!
We'll be joined by some local art powerhouses on Friday afternoon, when Kat Baumann (designer of some of your favorite KMSU t-shirts) and Amber Rahe (our Grind-Fu Cinema cake artist) for live art creation for pledges! The stuff they came up with the last time they joined us was incredible, and it all went out the door as fast as they made it. This time around it will likely go even faster, so get the station on speed dial/redial so you don't miss out!