Student Technology Tools and Resources for Online Learning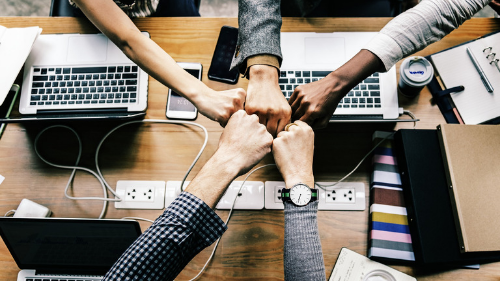 Learning online anytime, especially during the COVID-19 pandemic, means you'll be using technology a lot. Get ahead of the curve by checking out and utilizing the recommended and available technology software and services for students.
Software, Applications, and Digital Tools for Students
Computer and Wi-Fi Recommendations
Minimum Software, Operating System, and Application Recommendations
Low or No-Cost Internet and Computer Options
Request a laptop checkout from IT Solutions, learn more and request a computer.
Hotline for Student Technology Access
This hotline is available over the phone and through online chat and is specifically for students who have questions about accessing the right technology and tools for working and studying at home, such as internet and computer access.
Campus Wi-Fi now available on campus in parking lot 11A. Stay in your vehicle and connect to the campus Wi-Fi while remaining socially distant. We encourage you to use your home network if at all possible and use this option only if needed.
Charter Communications is offering free Spectrum broadband and Wi-Fi access for 60 days in-home with K-12 and/or college students that don't have an existing Spectrum service level up to 100 Mbps.
Comcast is offering 'Internet Essentials' package free for low-income customers for 60 days. There is also an option to buy refurbished low-cost computers.
Comcast opened free public Wi-Fi hot spots throughout the country, as part of its response to the coronavirus outbreak. It will also eliminate data caps for its customers.
T-Mobile announced that it would lift the data cap for mobile users along with temporary low price plans.
Minnesota Computers for Schools – Lifelong Learners Program: Do you need a computer but have no way of getting one? This may be a program to help. There is an application process, and the student would need a portion filled out by a Learning Partner/Counselor/Social Worker/Job Coach, etc.
PCs for People - This option gives the ability to provide low-cost internet and computers to individuals who meet certain eligibility requirements. The internet access is provided with mobile hot-spots, which would allow students to take it wherever it is needed.
MIDCO Lifeline - Lifeline is a federal program intended to put a home phone and internet service within the reach of qualifying families – giving low-income households affordable home phone or internet access.
Minnesota Office of Broadband Development - Digital Inclusion: If you are a low-income subscriber residing in either a Comcast, CenturyLink, Charter, or Midcontinent area, you may be eligible for reduced pricing of monthly broadband service.
Technology Training, Help, and Support
Tech questions? We have you covered! Here we share useful help and support resources for quick answers to your tech questions.
Downloadable Student Tech Resource Quick Guide