Be Prepared to Learn Online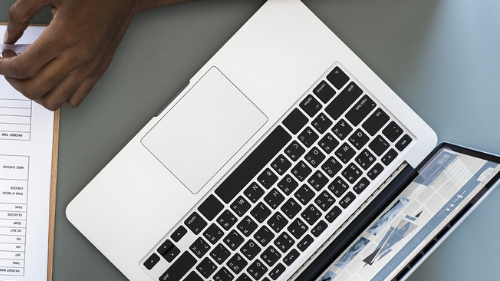 Transitioning online can be difficult for you and your instructors. Here are a few things that may help you better navigate this process.
Plan for Challenges
Whether you forgot about a deadline, had a technical issue pop up, or work/life got in the way of studying, use these steps to help you overcome these challenges:
Check class meeting times and schedule study sessions to stay on track - if the regular class meeting time doesn't work for you, talk to your instructor.
Ask instructors to caption video lectures if they are not already acessible. Even if you don't need this, someone in your class may need captioned videos.
Anticipate challenges and if possible work or plan ahead to avoid falling behind.
Communicate as soon as possible with your instructor if you do fall behind.

Seek out help and use your resources when you need it.

Be kind to yourself, take a deep breath, and remember that you are doing your best.
Help Each Other
If possible, reach out to other students in your classes and create a support network. There are a variety of digital tools available to stay in touch, like MavMAIL, Zoom, Teams, and more.
Be understanding
Your instructors may be just as anxious as you are about online classes. They are working to prepare under unprecedented circumstances, which creates many worries for them, too. Be patient with them, even as you ask them to be patient with you.
---
Reach out when you need help
When you can't find an answer on your own or with a classmate, don't be afraid to reach out! Remember that you are the one in control of your online learning.
Who can you reach out to? Helpful resources include:
When should you reach out? As soon as possible!

It could take up to 24 hours or longer to get a re

sponse from some, so d

on't wait to send the question.

What information should you include? Be as specific as possible and be sure to include:

Your full name

Name and section number of your class (if applicable)

Technology tool name or a

ssignment name (if applicable)

Question(s) you have



Utilize Student Help Resources
From advising, to accessibility, to health services, and more - here are some top University resources available to help you succeed:
Contact ITs for Tech Questions
Explore the IT Solutions website for tech tools, support articles, and more resources.

Get tech assistance from our IT Solutions Center experts o

n the web, online chat, email,

or by

phone at 507-389-6654.