United Prairie Bank
2020 Corporate Philanthropic Partner of the Year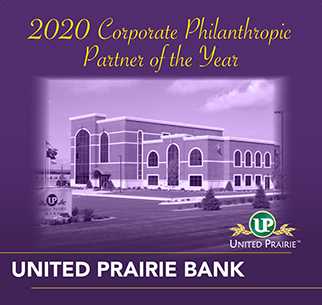 "If our funding of the Integrated Business Experience program helps set the University apart and gives business students an edge, we're all for that. It helps show off what a really solid, great university we have in Minnesota State Mankato."
-Stuart Sneer, Bank President 2002-2020/Board Chair Emeritus
United Prairie Bank is literally a Maverick family business.
It began when Jim Sneer '59 of Mountain Lake purchased Farmers State Bank of Mountain Lake in 1973.
Since then, both the bank and the Sneer family have grown: United Prairie has 16 total locations in 14 communities across Minnesota, and the Sneer family boasts three generations of Minnesota State Mankato alumni.
The family in 2010 established the Jim and Susan Sneer Football Scholarship Endowment. Two years later, following a lunch meeting with College of Business Dean Brenda Flannery, then-bank president Stuart Sneer '85 launched United Prairie's support of the Integrated Business Experience, a pilot program giving students a semester-long opportunity to create and run their own businesses.
"We got to the point during lunch where I was almost finishing her sentences for her," said Stuart, now emeritus chairman of the board for United Prairie Bank. "I was so excited. I just immediately got the concept she was sharing.
"I couldn't image how much better I could have done in school had I had an opportunity to learn this way as opposed to straight classroom," he said of what is today officially called the United Prairie Integrated Business Experience.