Tony Ulman '79
2020 Philanthropist of the Year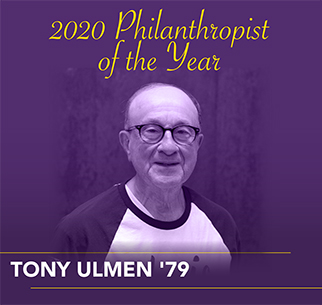 "I'll accept [this award] not so much for myself but for everybody else who works hard and contributes what they can. I always said if we all give a little, we can accomplish a lot."
Following his service in the U.S. Air Force, Tony Ulmen '79 worked for a retail development firm in the Twin Cities. After being laid off, he used the GI Bill to attend Minnesota State University, Mankato in 1977.
Ulmen graduated two years later with a degree in construction management and went on to help cities build water treatment plants and to manage other construction projects around the country.
"It was important work," he said. "The environment was important to me, and in wastewater treatment, we put clean water back into the rivers and streams."
Ulmen began financially supporting the University in 1982, earmarking his contributions to the construction management program which, he says, remains a stellar program with a great reputation.

"The students today, when they submit their resumes or their applications, the employers know that they're getting a person with the skills," he said.

Over time Ulmen helped establish scholarships that continue to this day; he also includes the University among the beneficiaries of his estate.
As for being named Philanthropist of the Year, Ulmen said he sees himself as part of a team.
"I'll accept it not so much for myself but for everybody else who works hard and contributes what they can. I always said if we all give a little, we can accomplish a lot."