Heather Ludwig '87
2020 Volunteer of the Year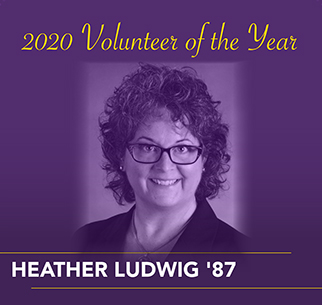 "It has been really fun to go to campus or be on-line and re-engage with college students. It's good for students to have people in their intended career path who can help them see what's possible, or where and how what they learn in class is applied in the world of work. I believe in sharing this type of knowledge and in being accessible as a sounding board for students."
It follows that after decades in business, Heather Ludwig '87 now runs her own business as a career counselor. It follows because at the core of what she does, she's first and foremost somebody who is thrilled to help others.
"I would do this for free," said Ludwig of her 12-year-old business, Ludwig Consulting. "It makes me so happy to help people who need guidance or facilitating them through the process of figuring out a career and being successful in their career and how to get a promotion and how to handle first-time leadership roles."
Working around the Midwest as a corporate human resources professional in a number of companies, Ludwig spent decades returning to Minnesota State Mankato to mentor business students, serve on the College of Business' advisory council and get involved in business clubs and organizations including the Delta Sigma Pi business fraternity.
"It's important to me as a human being to give time to help people," she said. "This is part of my core values. When I was asked, I thought 'what an honor to be asked to volunteer at my alma mater.'"