Face Coverings
Beginning July 20, 2020, all Minnesota State University, Mankato faculty, staff, students, and visitors will be required to wear a face covering over both the nose and mouth at all times when indoors on campus or in other university facilities.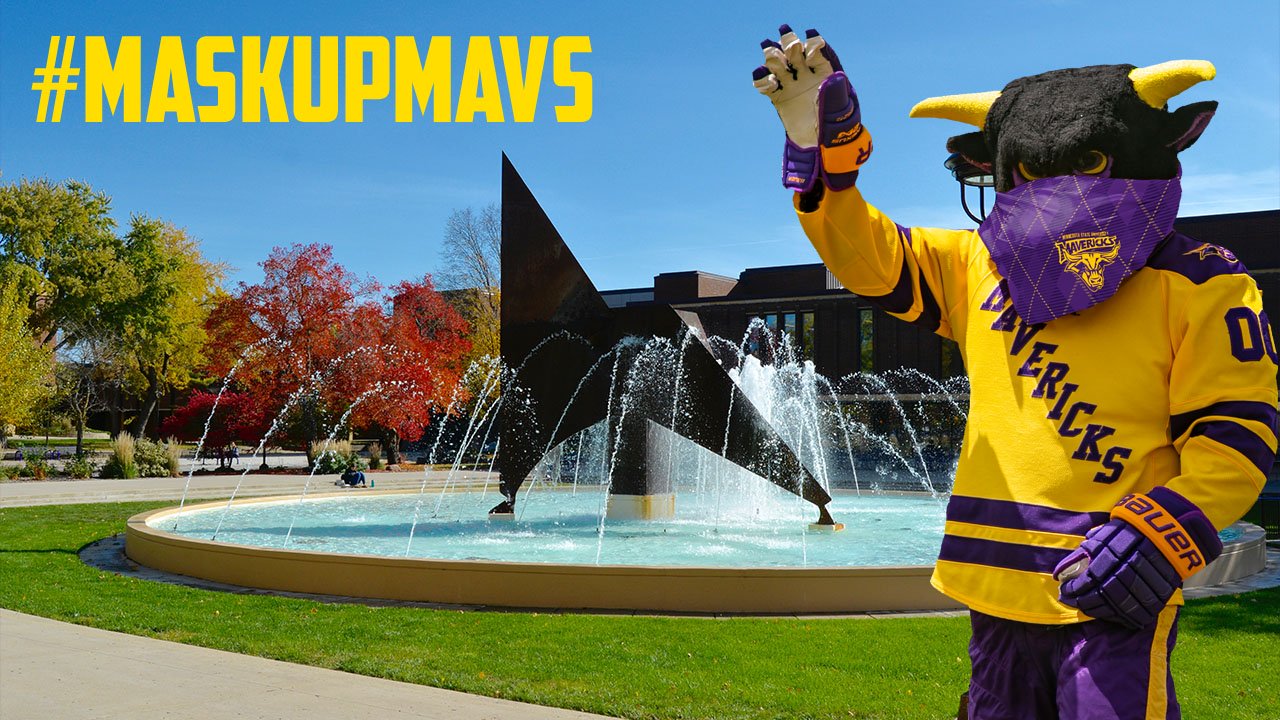 This decision is based on guidance from Gov. Walz's Executive Order 20-74 and recommendations from the CDC.
Use of

cloth face

coverings

is required among students, faculty, staff, visitors,

contractors,

vendors, and

suppliers.

Face coverings shall be worn as feasible and are most essential in times when physical distancing is difficult.

Do not touch the face covering and

wash your hands

frequently.

Understand how to

properly use, remove, and wash cloth face coverings
Exceptions include:
When alone in a private office.
When working in an office setting, cubicle, or workstation where physical distancing can be maintained.
When in an assigned residence hall room or apartment.
When eating or drinking.
When alone in a motor vehicle.
Individuals exercising, training, or practicing in Campus Recreation and Intercollegiate Athletic facilities (both indoor and outdoor) may remove the cloth face covering while under physical exertion or in other situations where wearing a mask compromises their safety and welfare.
Children 5 and under or anyone unable to remove a face covering without assistance.
When another accommodation is necessary as indicated by a medical expert and granted written permission of the university.
When an exception for a non-medical reason has been granted by university administration.
Face coverings are also required outdoors on campus if social distancing practices cannot be maintained.
---
Appropriate Face Coverings
A cloth or disposable mask that fits snugly but comfortably, covers the mouth and nose and allows for unrestricted breathing.
Other face coverings expressly approved by the University.
Masks or cloth coverings can be purchased or handmade. There is not a list of approved vendors. When buying or making a face covering, remember to check that it meets the following requirements:
Completely covers the mouth and nose.
Is not overly tight or restrictive.
The face covering must not be made of mesh or other fabric with holes and must not have a valve designed to facilitate easy exhaling or other openings, holes, visible gaps in the design or material, or vents.
If making a mask, there are many resources available to assist, including:
---
Face Shields
Face coverings are preferred over face shields.
Face shields can be used in conjunction with a mask any time the user wishes. Use of both may be necessary for higher risk activities.
Face shields may be used by faculty while conducting lecture in a classroom provided 6-foot distancing can be maintained with students.
Masks should be worn going to and from the classroom or if the faculty member cannot maintain the 6-foot social distancing.
Other uses of a face shield in lieu of masks should be for medical reasons only.
---
Caring for face coverings
Cloth masks like those provided to members of the University community must be washed regularly.
Remove your face mask by touching only the ear loops or ties. Be careful not to touch your eyes, nose, and mouth when removing and wash hands immediately after removing.

Include your face mask with your regular laundry, using regular laundry detergent and warm water. Use the highest dryer setting possible and leave until completely dry. You can also air dry your mask: lay it flat and allow it to completely dry. Place mask in direct sunlight if possible.

To hand wash your mask, scrub with hot, soapy water for at least 20 seconds. Dry on high heat in the dryer.
---
Compliance
Members of the University community are expected to behave responsibly and show respect for the health and safety of others. Any employee, student, or visitor who fails to abide by this directive without an approved accommodation may be asked or directed to leave the campus. Faculty and staff who are so directed but fail to comply may be subject to university discipline. Students who are so directed but fail to comply may be subject to student discipline.
---
Practicing Kindness
Avoid stigmatization of the wearing or not wearing of face coverings. Some members of the campus community may have an approved accommodation and are thus not subject to this requirement. We encourage patience, kindness, and compassion for others in our community who may be unable to wear a face covering.
---
Requesting an Accommodation
Students who believe they should be considered for an exception to this requirement should contact Accessibility Resources at (507) 389-2825, ar@mnsu.edu.
Employees who believe they should be considered for an exception to this requirement should contact Human Resources at (507) 389-2015, hr@mnsu.edu.