15th Annual Play Therapy Conference
Friday, September 20, 2019
8:30 AM - 4:30 PM
Minnesota State Mankato - Centennial Student Union 2nd Floor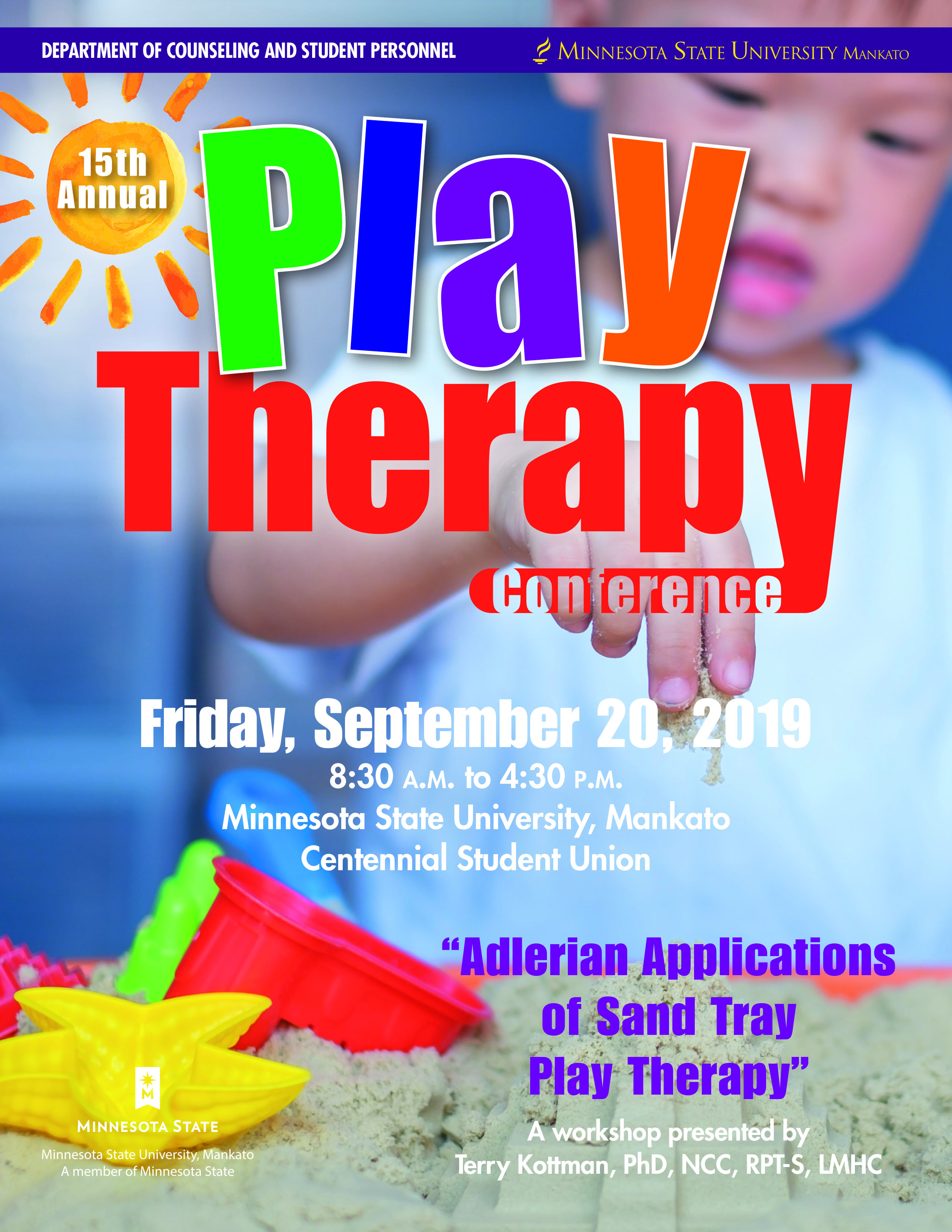 In this fun, experiential workshop, we will explore Adlerian applications of sand tray play therapy, a method of integrating the concepts and techniques of Individual Psychology with the practice of sand tray play therapy. Participants will learn techniques for using sand tray play therapy in establishing relationships with clients of all ages, exploring clients' life-styles, helping clients gain insight into their lifestyles, and reorienting and reeducating clients. Through lecture and demonstration, participants will learn ways to set up non-directed, directed, and quasi-directed sand trays. They will also learn strategies for interpreting what sand trays can tell us about clients and their lifestyles and for tentatively sharing our inferences with clients. Participants will get to experience several different ways to use sand tray play therapy to explore the unique ways that Adlerians conceptualize children, teens, adults, and family members. Participants should dress comfortably and be prepared to get a little dirty playing in the sand.
CONTINUING EDUCATION CREDITS
Approved for 6 hours
The CSP Department is an Approved Provider by:
Association for Play Therapy (APT Approved Provider 09-245)
National Board for Certified Counselors (NBCC ACEP #4558)
Minnesota licensing board approvals are pending.
GRADUATE CREDIT OPTION
One semester hour of graduate credit can be earned through attendance at the conference and completion of an independent study project in play therapy applying the concepts presented to clinical practice. For more details and a copy of the syllabus, please contact Dr. John W. Seymour in the Department of Counseling and Student Personnel: john.seymour@mnsu.edu.
LEARNING OBJECTIVES
Participants will learn to:
Describe how sand trays can be used in all 4 phases of Adlerian play therapy.
Describe the process of conducting a sand tray play therapy session.
Describe the types of figures needed to conduct a sand tray play therapy session.
Explain the difference between a non-directed, directed, and quasidirected sand tray.
Explain 3 elements in considering how to interpret a sand tray.
Discuss the rationale for the therapist doing a sand tray for clients in the third phase of Adlerian play therapy.
REGISTRATION
Seating is limited. Advance registration is recommended.
Register online at http://link.mnsu.edu/play-therapy.
CONFERENCE REGISTRATION
$ 160.00 Early registration through Tuesday, September 3
$ 175.00 Registration after September 3
MAKING PAYMENT FOR CONFERENCE
Payment for conference registration may be made by check, credit card, or purchase order. Registrations can be completed securely online at the following: http://link.mnsu.edu/play-therapy. Confirmation of registration/payment will be sent via E-mail.
CANCELLATION POLICY
Requests for cancellation must be made in writing to the Center for Educator Partnerships and Student Support. Refunds will be given on requests received prior to September 16, less a $20 administrative fee per registrant. Registrants can transfer their registration to another person.
CONFERENCE SCHEDULE
7:45 a.m. Registration table opens
8:30 a.m. Conference begins
12:00 p.m. Lunch break
4:30 p.m. Conference concludes, CE certificates issued
MEALS
Lunch and refreshments during breaks are included in the registration fee for this one-day workshop. Please make your meal selection when registering.
LODGING
A list of affordable lodging convenient to the University is available from the Greater Mankato Chamber of Commerce by phone at 800-657-4733 or on their Web site at https://www.visitgreatermankato.com
CONFERENCE SITE/DIRECTIONS
The workshop will be held in the second floor of the Centennial Student Union on the Minnesota State Mankato campus. Mankato is in south central Minnesota at the intersection of U. S. Highway 169 (north/south) and U. S. Highway 14 (east/ west), and is within a convenient driving distance of two interstate highways, I-35 (north/south) and I-90 (east-west). Parking maps are available at: www.mnsu.edu/maps.
PARKING
Campus parking will be available in designated areas. Early registrants (registration and payment received by September 6) will receive a complimentary parking pass and maps to Minnesota State Mankato and Parking areas. Parking maps are available at www.mnsu.edu/maps.
For registration questions, please contact Continuing & Professional Education at 507-389-1094.
cepd@mnsu.edu