Dare to Lead
Monday, November 8, 2021
9:00 AM - 1:00 PM
Live Online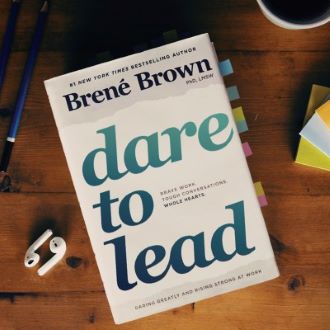 Session Dates: November 8th - 12th. All sessions will be held online via Zoom from 9:00am - 1:00pm.

Individuals who successfully complete the full 24-hour Dare to Lead™ program will receive a certificate of completion and are allowed to put the Dare to Lead Trained badge on their LinkedIn account.
About The Dare To Lead Program
Based on the research of Dr. Brené Brown, Dare to Lead™ is an empirically based courage building program designed to be facilitated by organizational development professionals.
The most significant finding from Brené's latest research is that courage is a collection of four skill sets that are teachable, measurable, and observable. The Dare to Lead™ program focuses on developing these courage building skills through workshops, trainings, and coaching to help individuals, teams, and organizations move from armored leadership to daring leadership.
Further program information is available at daretolead.brenebrown.com.
About the Presenter
Sarah Ciavarri, M.Div. PCC, BCC, CDWF-C, CDTLF, loves seeing people get excited about their lives and futures. Sarah is a Certified Daring Way™ Facilitator-Consultant, Certified Dare to Lead™ Facilitator and a Professional Certified Coach through the International Coach Federation. For nine years, Sarah has traveled nationally keynoting and facilitating workshops on resiliency, mindset, vulnerability, and shame. Sarah is a faculty member with Coaching4Today's Leaders and trains coaches. Sarah is the author of Finding Our Way to the Truth: Seven Lies Leaders Believe and How to Let Them Go. Sarah is a Board Certified Chaplain and has been the Director of Spiritual Care at Augustana Care in Apple Valley, MN for over twelve years.