Camp Maverick - Rec N' Read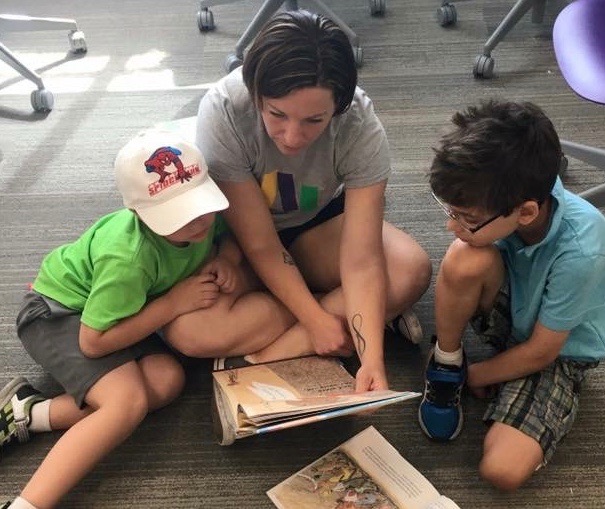 Join us for Camp Maverick the entire month of June! Three weekly sessions and a two-day camp are available to all youth who are interested. Each session can be registered for separately – come to all or join us for one. SPECIAL OFFER: Sign up for the three weekly sessions and receive the two-day camp free! (See details on the registration page.)
Camp Maverick – Rec N' Read is a recreation and literacy intervention camp designed to help struggling readers improve reading and writing skills while having fun and playing games. We will have lots of games and activities designed to help us make the most of summer with Camp activities going on across campus in the library, computer and art labs, rock climbing, swimming, theater, and more! Children who have completed grades Kindergarten through 5th are welcome.
Camp Details
Weekly day camps and a two-day camp all June!
Monday-Friday: 8am-4pm
For children who have completed kindergarten through 5th grade
Camp is designed for struggling readers and writers and will provide:

Recreation activities for 5 hours each day
Literacy activities 3 hours each day
A daily lunch and snack

Location: MSU Campus, Clinical Sciences Building Atrium, 150 South Road, Mankato, MN 56001
Max number of participants: 35
[PDF] Print Flyer (582 KiB)
Camp Dates
| | |
| --- | --- |
| June 6 & 7 (two-day camp) | |
| June 10 – June 14 | |
| June 17 – June 21 | |
| June 24 – June 28 | |
Seats are limited! Register today!
Camp Materials
Each day of camp, my child is to bring the following items: sunscreen, hat, water bottle, swimming attire, tennis shoes, and any updates from parents regarding information provided on this form. A child that does not have sunscreen will not be permitted outside. If a child does not have swimming attire, they will not be permitted to swim. Additionally, if a child does not have tennis shoes, they may not be permitted to participate in activities where this footwear is required.
Camp Weekly Rates
Household income
Camp fee
(WEEKLY SESSIONS)
Household income
Camp fee
(TWO-DAY CAMP)
Scholarship needed*
Free
<$34,999
$35
<$34,999
$15
$35,000 - $44,999
$75
$35,000 - $44,999
$40
$45,000 - $64,999
$120
>$45,000
$65
>$65,000
$175
*Participants may request a scholarship to cover camp fees due to inability to afford camp. Scholarships will be provided as available. To apply for a scholarship, please call 507-389-1094 or email cepd@mnsu.edu.

Questions:
Contact us with any questions at campmaverick@mnsu.edu
Megan Mahowald, Ph.D., CCC-SLP
Assistant Professor
Department of Speech, Hearing, and Rehabilitation Services
megan.mahowald@mnsu.edu; 507-389-1415

If you have questions on how to register, contact Continuing & Professional Education at 507-389-1094, or 1-800-311-3142, or cepd@mnsu.edu