Professor Gwen Westerman Named Minnesota's Poet Laureate
Gov. Tim Walz, Lt. Gov. Peggy Flanagan Name Westerman Third Poet Laureate in State History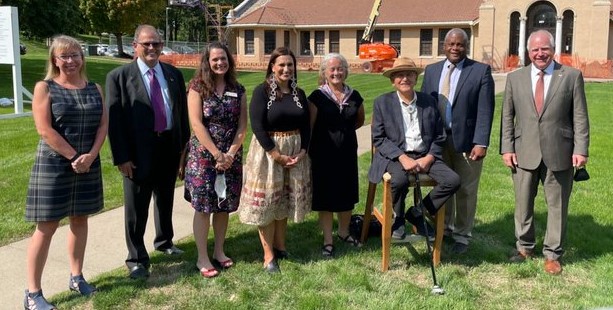 Gwen Westerman (fifth from left in photo) was named Minnesota's poet laureate on Thursday, Sept. 9, 2021.
Mankato, Minn. -- Minnesota State University, Mankato faculty member Gwen Westerman, a professor in the University's Department of English, was named Minnesota's poet laureate Thursday by Gov. Tim Walz and Lt. Gov. Peggy Flanagan.
Westerman is a professor of English literature and English studies and technical communication, according to her biography published on Minnesota State Mankato's website.
Westerman's biography details her many achievements as a writer, poet and artist in addition to listing her academic degrees, recent courses taught and more.
Westerman is the third poet laureate in state history, She follows Robert Bly, who was named Minnesota's first poet laureate in February 2008 by former Gov. Tim Pawlenty, and Joyce Sutphen, who was named the state's second poet laureate in August 2011 by former Gov. Mark Dayton. According to the St. Paul Pioneer Press, Sutphen resigned from the position in April.
Links to news coverage:
Mankato Free Press
KEYC TV
Star Tribune
Minnesota Public Radio
St. Paul Pioneer Press
Rochester Post-Bulletin