Sept. 18-21: 'Cloud 9' is First Play of Studio Season
Wednesday, September 18, 2019
7:30 PM - 9:30 PM
Opening Night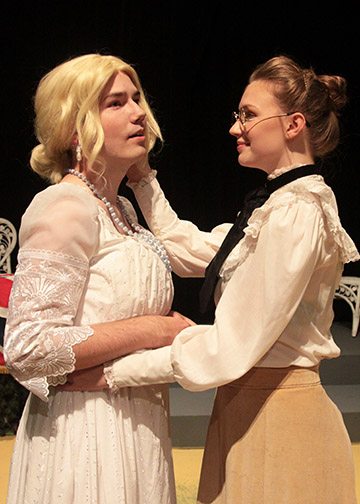 In the photo (courtesy of Minnesota State Mankato's Department of Theatre and Dance), Ellen (Lydia Prior, right) gets close to Betty (Ryan Christopherson, left) by showing her that women can have feelings for each other.
MANKATO – Minnesota State University, Mankato's Department of Theatre & Dance will open the 2019-2020 Studio Season with "Cloud 9" in the Andreas Theatre at the Early Center for the Performing Arts.
This time-shifting comedy is a spoof of the Victorian Empire and its rigid attitudes, especially toward sex. The second act shifts to London in 1980. Except for the surviving characters, it is only 25 years later, and all those repressed sexual longings have evaporated, along with the Empire.
Third-year MFA directing candidate Seth M. Honerman is presenting "Cloud 9" as his thesis project before he plans to graduate in the spring. He describes Caryl Churchill's "Cloud 9" as serious in tone, and yet incredibly humorous.
"Cloud 9" runs Sept. 18-21 at 7:30 p.m. in the Andreas Theatre at the Earley Center for Performing Arts, Minnesota State Mankato. As with all of the Studio shows, this play is recommended for mature audiences.
Tickets are $10 regular, $9 for seniors ages 65 and older, children under 16 and groups of 15 or more; and $8 for Minnesota State Mankato students.
The Box Office is open 4-6 p.m. weekdays in the lobby of the Performing Arts Center, or buy single tickets online at MSUTheatre.com. Call the Box Office at 507-389-6661.