Minnesota State Mankato Professor Launches 'Pandemic Ethics' Podcast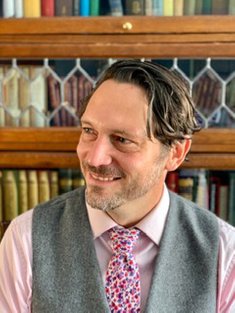 Mankato, Minn. – Minnesota State University, Mankato faculty member Joshua Preiss (pictured), a professor of philosophy, has launched a new podcast, "Pandemic Ethics," that is available on Spotify, Soundcloud and other platforms.
The podcast discusses the defining ethical challenges of the COVID-19 pandemic with experts in ethics, health, law, economics, public policy and beyond.
The first episode, "Risk, Ethics, and Public Policy," features Jonathan Wolff, Alfred Landecker Professor of Values and Public Policy at the University of Oxford.
The second episode, "Property Law and the Pandemic," features Katharina Pistor, Edwin B. Parker Professor of Comparative Law at the Columbia University Law School.
A future episode guide can be found on Preiss's podcast website. Future episodes will focus on topics such as the ethics of vaccine distribution, justice and race, the future of work and others. Each episode description includes links to suggested readings.
The podcast will provide the core for a special topics course Preiss is teaching in the spring, Pandemic Ethics (PHIL450). The class is open to all students.

NOTE TO MEDIA: For more information, contact Joshua Preiss by email at joshua.preiss@mnsu.edu or by phone at 773-573-2357 (cell phone).
Joshua Preiss is director of the Program in Philosophy, Politics, and Economics (PPE) atMinnesota State Mankato. More information on Preiss is available at joshuapreiss.com.
Minnesota State Mankato's Department of Philosophy is part of the University's College of Arts and Humanities.
Minnesota State Mankato, a comprehensive university with 14,604 students, is part of the Minnesota State system, which includes 30 colleges and seven universities.