Oct. 12-13: Andreas Observatory Public Viewing Nights
Friday, October 12, 2018
8:00 PM - 10:00 PM
First viewing night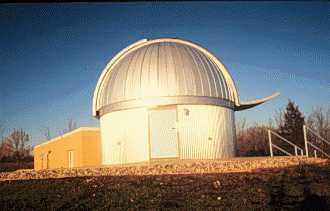 Mankato, Minn. – Minnesota State University, Mankato's Department of Physics and Astronomy will be hosting free public viewing nights at Andreas Observatory on Friday and Saturday, Oct. 12-13 as part of the University's family weekend.
The observatory will be open from 8-10 p.m. Friday and Saturday, weather permitting.
Visitors to Andreas Observatory will have a chance to look through one of the largest telescopes in Minnesota and view the planets Saturn and Mars as well as other celestial objects, including star clusters, double stars and nebulae.
Andreas Observatory is on the south edge of campus. All visitors should park at the south end of Lot 1, located along Ellis Avenue, and walk to the observatory, a distance of about 600 yards.
Any inquiries for further information should be directed to Paul Eskridge, professor of astronomy at Minnesota State Mankato, by phone at 507-389-1840 or by email at paul.eskridge@mnsu.edu.
Minnesota State Mankato's Department of Physics and Astronomy is part of the University's College of Science, Engineering and Technology.
Minnesota State Mankato, a comprehensive university with approximately 15,000 students, is part of the Minnesota State system, which includes 30 colleges and seven universities.