Oct. 10: Contemporary Vocal Groups in Concert
Thursday, October 10, 2019
7:30 PM - 9:30 PM
Elias J. Halling Recital Hall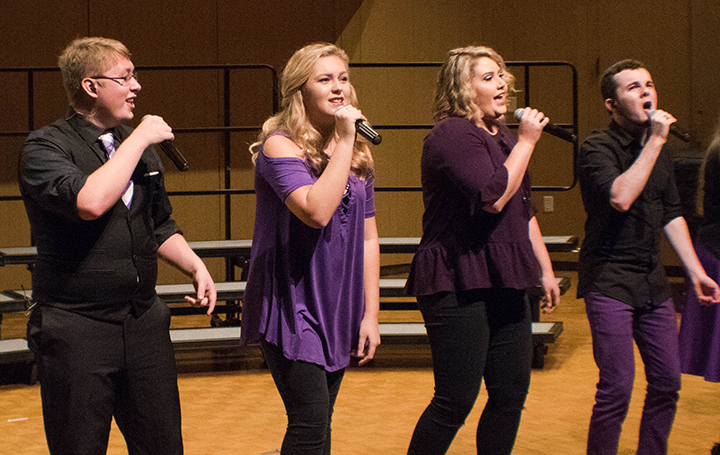 MANKATO, Minn. – Minnesota State University, Mankato's Department of Music will present two contemporary a cappella vocal groups in concert 7:30 p.m. Thursday, Oct. 10 in Halling Recital Hall.
Maverick Vocal Precision and Maverick Fusion vocal ensembles feature a cappella stylings of vocal groups such as Pentatonix, Rockapella and Backtrack. Stephanie Thorpe and Douglas Snapp coordinate the two ensembles.
The University's a cappella ensemble, Maverick Vocal Precision, caught the attention of the world as the group won the Feb. 8-10 "Aca-Idol" competition at the 2019 SingStrongNY a Cappella Festival at Adelphi University Performing Arts Center, Garden City, N.Y.
Maverick Vocal Precision received comments from the following Aca-Idol judges: "Awesome program," "Incredible depth of soloists" and "Well polished throughout." In addition to winning the competition, Maverick Vocal Precision received the award for "Audience Favorite" (through audience voting) and a $1,000 prize.
Concert admission is $9 for general admission and $7 for K-12 and students. University students are admitted free with a valid MavCARD. Advance purchase is strongly encouraged. Those who wish to purchase tickets online should go to http://link.mnsu.edu/musictickets.
For more information, call the Performance Series office, (507) 389-5549.