Nov. 18-22: 'Angel Street' is next in Theatre Season
Wednesday, November 18, 2020
7:30 PM - 9:30 PM
Opening Night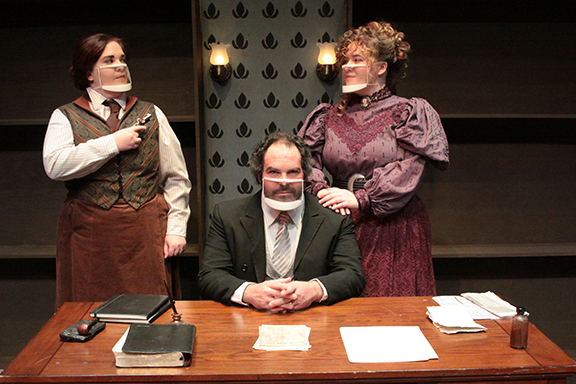 In the photo, Rough (Ruby Carlson) conspires to protect Mrs. Manneheim (Via Logan) from Mr. Manneheim (Ryan Sturgis). (Photo courtesy of Minnesota State Mankato's Department of Theatre and Dance.)
Mankato, Minn. – "Angel Street," the fourth theatre production of the season for Minnesota State University, Mankato's Department of Theatre and Dance, opens Nov. 18 in the Ted Paul Theatre.
"Angel Street" runs Nov. 18-21 at 7:30 p.m. and Nov. 21 and 22 p.m. in the Andreas Theatre at the Earley Center for Performing Arts, Minnesota State University, Mankato.
This show features unexplained events, unexpected visitors, madness and shocking secrets.
This school year presents unique challenges with COVID-19, but the department has successfully opened and closed three productions this fall and will continue to present live theatre and dance as long as it can be done safely. Everyone who comes to campus is required to complete the University-mandated COVID-19 screening. All visitors, students and staff need to wear masks for the duration of their time in the Performing Arts Center, and social distancing is in place in the theatres and common areas.
Tickets are $17 regular, $15 for seniors ages 65 and older, children under 16 and groups of 15 or more; and $12 for Minnesota State Mankato students.
The Box Office is open 4-6 p.m. weekdays in the lobby of the Performing Arts Center. Single tickets may be purchased online at MSUTheatre.com. The Box Office line is 507-389-6661.