July 15-20: Three Minnesota State Mankato Events to Highlight 50-Year Anniversary of Moon Landing
Monday, July 15, 2019
9:00 PM - 11:00 PM
First event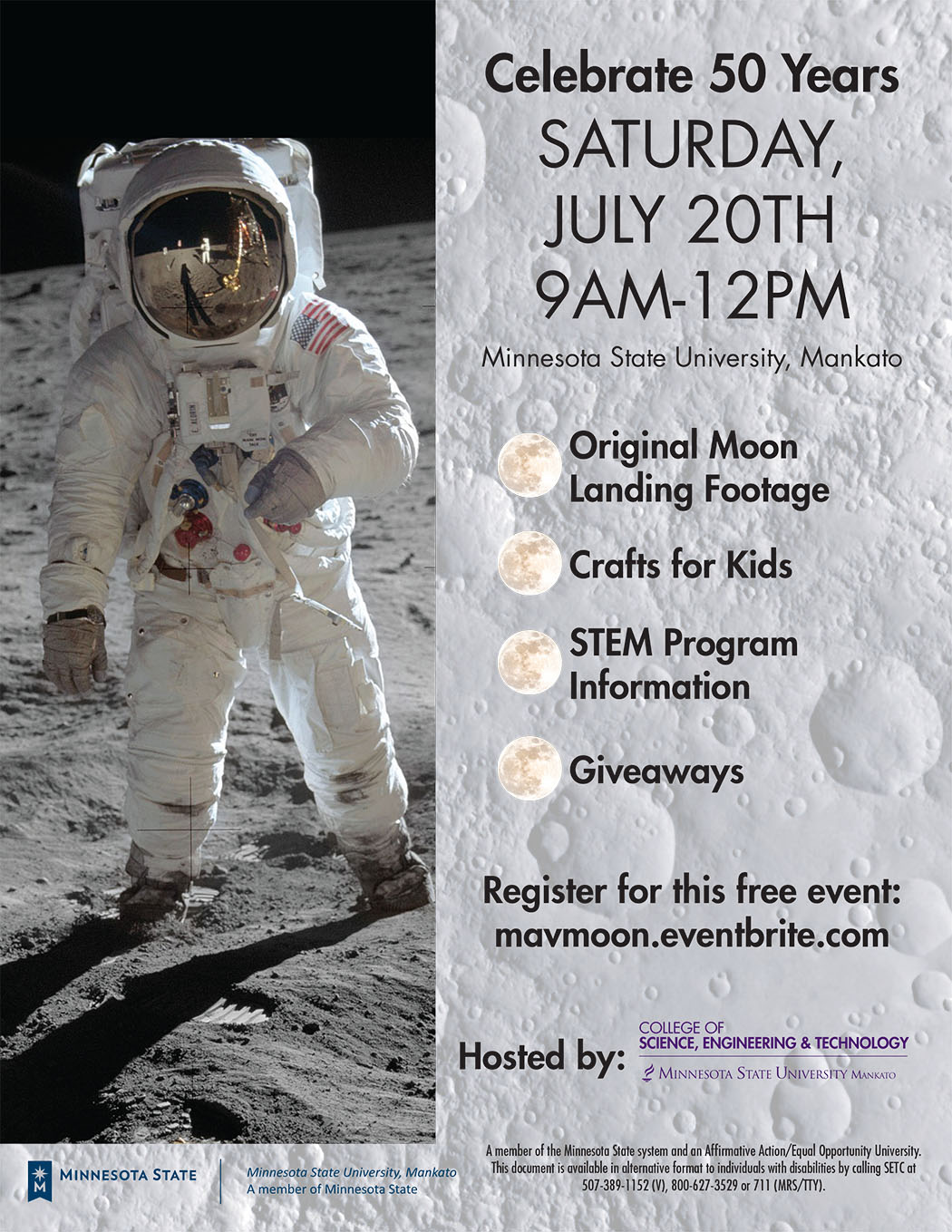 Mankato, Minn. – Minnesota State University, Mankato will host three upcoming events – all free and open to the public – that highlight the 50-year anniversary of the Apollo 11 moon landing on July 20, 1969.
Monday, July 15 from 9-11 p.m. – Standeford Observatory Open House
Faculty and students from Minnesota State Mankato's Department of Physics and Astronomy will host an open house at the Leo Standeford Observatory on campus Monday, July 15 from 9-11 p.m.
As the moon rises with the sunset, the public will be able to view the moon through telescopes, learn a bit about the Apollo landings and also view other objects of interest accessible that evening. Minnesota State Mankato astronomers will be available to answer questions.
Visitors should park at the southern end of Lot 1, walk through the pedestrian gate and a short distance to the observatory. A sign on the gate at the end of Lot 1 will indicate whether the observatory is open. (Visitors with special needs should contact the University's Office of Accessibility Resources at 507-389-2825.)
Visitors may also call 507-389-6208 before arriving to check whether the event will occur. If there is no answer after 8:30 p.m., the event has been cancelled due to weather.
Thursday, July 18 at 9 p.m. – Outdoor film showing of "Apollo 13"
Student Activities at Minnesota State Mankato is hosting a showing of "Apollo 13" (rated PG) at 9 p.m. Thursday, July 18 on an outdoor screen in the University's amphitheatre, located between the Centennial Student Union and Memorial Library. Free parking is available in Gold Lot 4a. (Parking map link)
The community is invited to bring blankets and lawn chairs. Theatre popcorn, candy and beverages will be available for purchase. Donations to Campus Kitchen and Campus Cupboard will be collected. For each non-expired food donation, participants will receive a free small popcorn (limit two popcorns per family).
In case of inclement weather, the movie will be shown in Ostrander Auditorium, located in Centennial Student Union.
For more information, contact Student Activities at 507-389-6076.
Saturday, July 20 from 9 a.m. to 12 p.m. – Moon Landing Community Event
To commemorate the exact date that astronaut Neil Armstrong took the first steps on the moon, Minnesota State Mankato's College of Science, Engineering & Technology will host a family community event Saturday, July 20 from 9 a.m. to 12 p.m. in Ostrander Auditorium (located in Centennial Student Union).
Activities include kids crafts, prizes and original moon landing video footage. There will also be information tables on STEM programs offered at Minnesota State Mankato and a short talk by Michael Rutkowski, assistant professor of astronomy at the University.
Cake, popcorn and refreshments will be provided, and the public is encourage to bring cameras to the event for photo opportunities.
Free parking is available in the Visitor's Lot as well as Lot 2. (Parking map link)
To register for this free event and add to online calendars, go to mavmoon.eventbrite.com.
For more information, contact Emily Frederick, director of communication and events, at 507-389-1152.
Minnesota State Mankato, a comprehensive university with 14,227 students, is part of the Minnesota State system, which includes 30 colleges and seven universities.