Jan. 28: Good Thunder Reading Series Features Novelist Brit Bennett
Thursday, January 28, 2021
10:00 AM - 11:00 AM
First event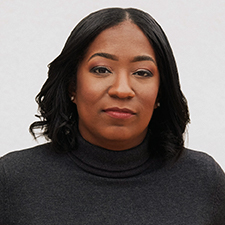 Mankato, Minn. – Minnesota State University, Mankato will host novelist Brit Bennett (pictured) on Thursday, Jan. 28 as the fifth writer who will virtually attend this year's Good Thunder Reading Series.
All Good Thunder Reading Series events are free and open to the public, and this year the events will be held virtually. A registration link for Bennett's visit is available at https://minnstate.zoom.us/j/92710509109
Bennett will begin by holding a workshop from 10-11 a.m. Later that day, Bennett will hold a "Talk on Craft" from 3-4 p.m. Events will conclude with Bennett holding a reading of her work from 7:30-8:30 p.m.
Bennett graduated from Stanford University and later earned her MFA in creative writing at the University of Michigan, when she won a Hopwood Award in graduate short fiction as well as the 2014 Hurston/Wright Award for College Writers.
She is a National Book Foundation "5 Under 35" awardee, and her debut novel, "The Mothers," was a New York Times bestseller. Her second novel, "The Vanishing Half," was an instant #1 New York Times bestseller. Her essays are featured in The New Yorker, The New York Times Magazine, The Paris Review and Jezebel.
The Good Thunder Reading Series, in its 39th year, is made possible by the voters of Minnesota through a grant from the Minnesota State Arts Board, thanks to a legislative appropriation from the Arts and Cultural Heritage Fund.
The 2020-21 Good Thunder Reading Series receives support from the Minnesota State University, Mankato Department of English, the College of Arts and Humanities, the Office of Diversity & Inclusion, the Nadine B. Andreas Endowment, the Eddice B. Barber Visiting Writer Endowment, the Robert C. Wright Endowment and individual donors. Additional assistance comes from the Emy Frentz Arts Guild and Barnes & Noble Bookstore at Minnesota State Mankato.
For more information contact Candace Black at 507-389-2680 or visit gt.mnsu.edu.
Minnesota State Mankato, a comprehensive university with 14,604 students, is part of the Minnesota State system, which includes 30 colleges and seven universities.