Sept. 23-Oct. 2: Department of Theatre & Dance Opens Mainstage Season with H.M.S. Pinafore
Thursday, September 23, 2021
7:30 PM - 9:30 PM
Opening Night, Ted Paul Theatre
Minnesota State University, Mankato Department of Theatre and Dance News Release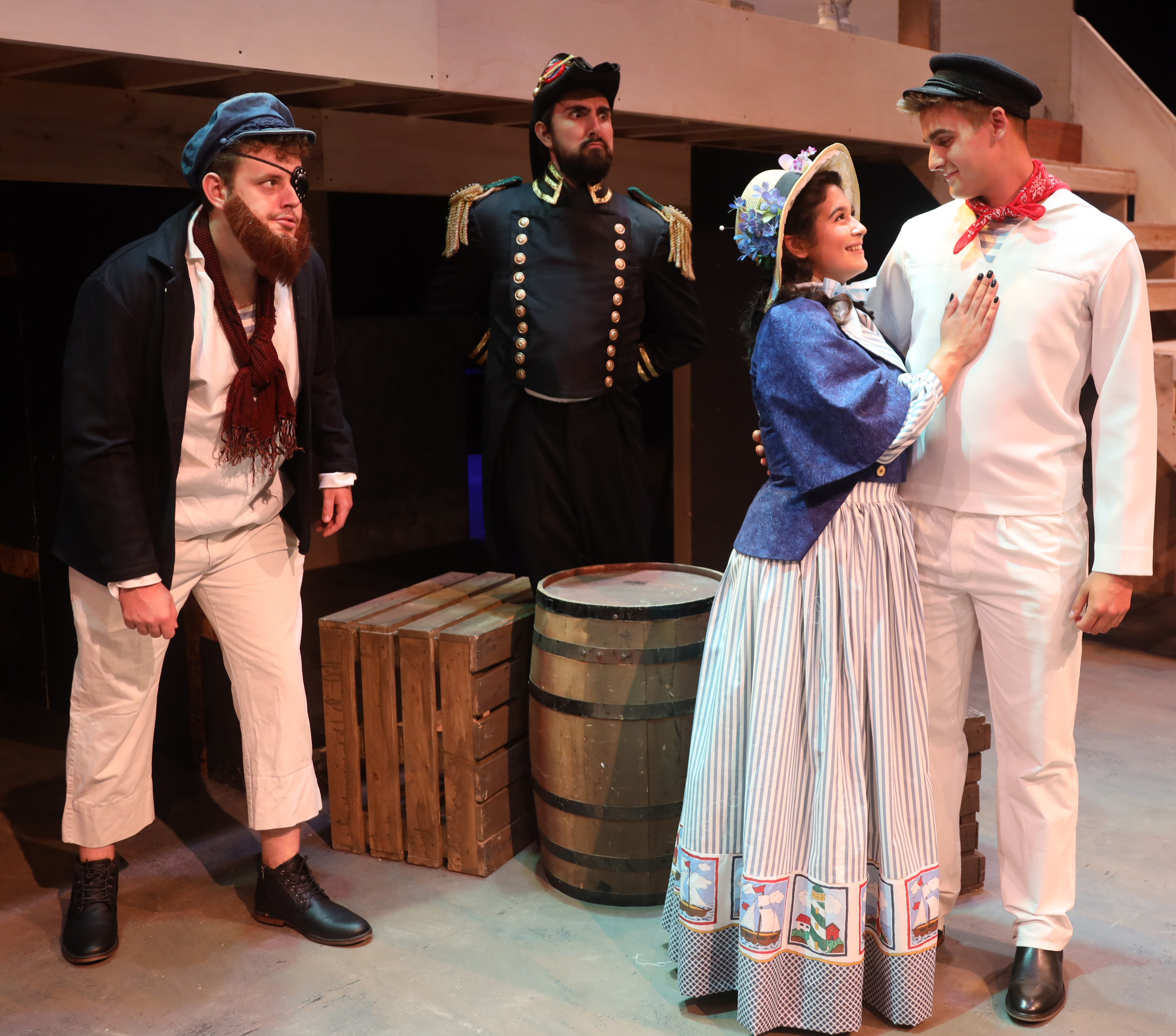 (Left to right) Jack Adams plays Dick Deadeye, Billy Krager plays Captain Corcoran, Sydney Belonge plays Josephine, Hunter Conrad plays Ralph Rackstraw (photo courtesy of Minnesota State University, Mankato's Department of Theatre and Dance).
MANKATO, Minn. – Minnesota State University, Mankato's Department of Theatre & Dance will open the Mainstage season with "H.M.S. Pinafore, The Lass that Loved a Sailor" on Sept. 23.
A classic comic opera that takes place on board a Royal Navy ship, this story is about a captain's daughter in love with a working-class sailor. Josephine is in love with Ralph, but her father wants her to marry Joseph, First Lord of the Admiralty. This operetta has been an international sensation that has contributed significantly to the development of modern musical theatre.
At this time, the performers have the option to perform masked or unmasked. All unmasked students are carefully following the University COVID safety guidelines. All audience members, staff and crew are required to wear a mask for the duration of their time inside University buildings.
"H.M.S. Pinafore" runs Sept. 23-25 and Sept. 30-Oct. 2 at 7:30 p.m. and Oct. 2 & 3, at 2 p.m. in the Ted Paul Theatre at the Earley Center for Performing Arts, Minnesota State University, Mankato.
Tickets are $24 regular, $21 for seniors ages 65 and older, children under 16 and groups of 15 or more; and $16 for Minnesota State Mankato students.
The Box Office is open 4-6 p.m. weekdays in the lobby of the Performing Arts Center, or buy single tickets online at MSUTheatre.com. The Box Office line is 507-389-6661.