Feb. 14-23: 'Macbeth'
Thursday, February 14, 2019
7:30 PM - 9:30 PM
Opening night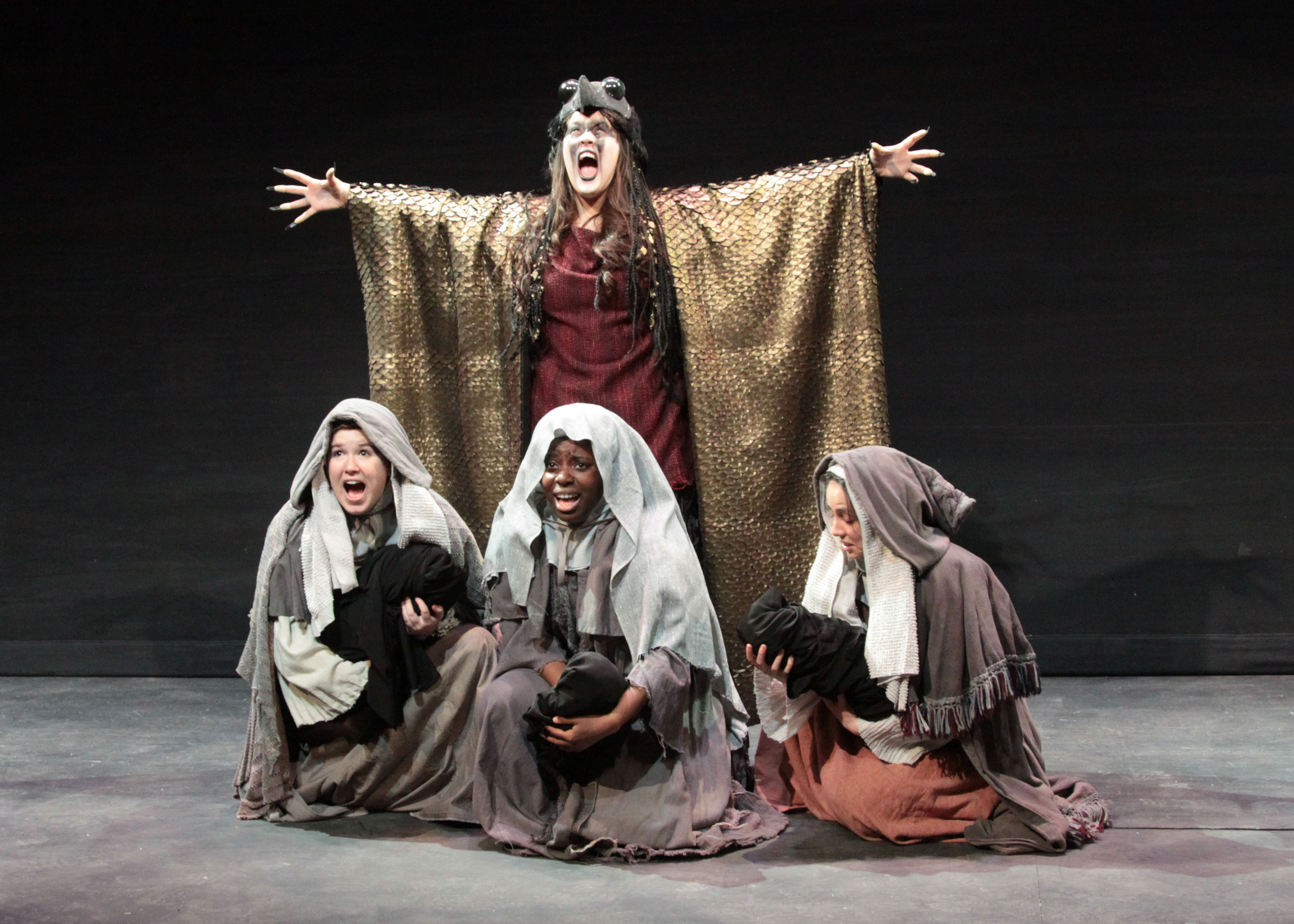 In the photo, Hecate (Vanessa Vuckovick) stands over the witches (left to right: Sam Buckley, Sandiana Mervio and Martha Cubillos). Photo courtesy of Minnesota State Mankato's Department of Theatre and Dance.
MANKATO – Minnesota State University, Mankato's Department of Theatre & Dance will open "Macbeth" on Feb.14 in the Ted Paul Theatre at the Early Center for the Performing Arts.
Macbeth is the story of a brave Scottish general named who receives a prophecy from a trio of witches that one day he will become King of Scotland. Consumed by ambition and spurred to action by his wife, Macbeth murders King Duncan and takes the Scottish throne for himself. He is then wracked with guilt and paranoia. This a show that completely captures the realities of war and its aftermath. Macbeth is truly a marvel that will leave you torn between what is light and true darkness of the heart and mind.
The production has a cast of 45 people, including a large cast of students, as well as several community members, including six children.
Macbeth runs Feb. 14-16 and Feb. 21-23 at 7:30 p.m., and Feb. 23-24 at 2 p.m. in the Ted Paul Theatre at the Earley Center for Performing Arts, Minnesota State Mankato.
Tickets are $16 regular; $14 for seniors ages 65 and older, children under 16 and groups of 15 or more; and $11 for Minnesota State Mankato students.
The Box Office is open 4-6 p.m. weekdays in the lobby of the Performing Arts Center, or buy single tickets online at MSUTheatre.com. Call the Box Office at 507-389-6661.