Minnesota State Mankato's Fall Enrollment Increases for Second Consecutive Year in Richard Davenport's final year as president
More than 115,000 students have enrolled at University during Davenport's presidency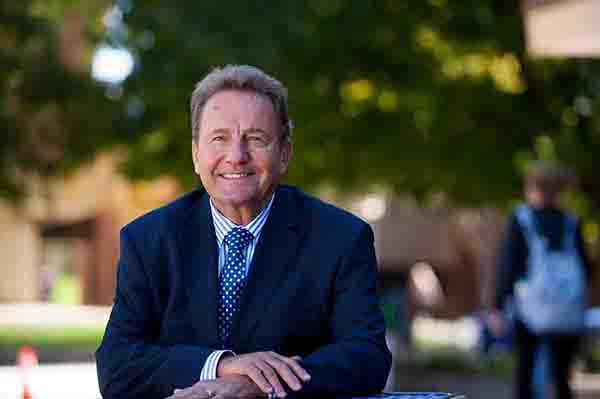 Mankato Free Press coverage
KEYC TV coverage
KTOE radio coverage
Mankato, Minn. – Minnesota State University, Mankato's 2020 fall semester enrollment is up by 307 students, from 14,297 in October 2019 to 14,604 this month (a 2.1 percent increase), marking the second year in a row that Minnesota State Mankato's "30-day headcount enrollment" has increased.
It's the 18th consecutive year that Minnesota State Mankato's fall enrollment has topped 14,000 students, the longest such stretch in the University's 152 years.
The 18 years in a row of topping 14,000 in fall enrollment coincides with Richard Davenport's tenure as president. Davenport (pictured), who became president on July 1, 2002, announced in August that he will retire June 30 after completing his 19th year as president.
Davenport is the third-longest tenured president at Minnesota State Mankato, and more students have attended the University while Davenport has been president than under any other president in school history. An unduplicated headcount of 115,632 students have enrolled at Minnesota State Mankato from the fall of 2002 through the fall of 2020, according to the University's Division of Student Success, Analytics and Integrated Planning.
"Enrollment success is the result of hard work by many people at the University," said Davenport. "It's a team effort. Vice President David Jones heads up our enrollment management, and Vice President Lynn Akey leads our efforts in retention and student success. But all of our faculty, staff and administration, as well as our alumni and the greater community, have contributed to make Minnesota State University, Mankato a place where students can achieve their educational goals. We're proud to let prospective students know that this a special place, where they can develop their 'big ideas' and use 'real-world thinking' to make our world better for all."
During Davenport's first fall as president, overall enrollment was at 13,795, but it increased to 14,058 in his second year, and it has not dropped below that mark since. Included were seven consecutive years of enrollments of more than 15,000 students (with a high of 15,649 in 2011).
Minnesota State Mankato, the second-largest university in the state after the University of Minnesota (Twin Cities), has the most students in the Minnesota State system this fall, both in headcount (14,604) and full-year equivalency (6,339).
Minnesota State Mankato Fall 2020 Enrollment Notes (as of Oct. 5)
The fall 2020 new entering first-year class of 2,284 is the University's 11th-largest new class in its 152-year history. Under President Davenport, the University has achieved nine of the 10 largest first-year classes in institution history.
Minnesota State Mankato's graduate enrollment of 1,839 is the institution's 12th-largest—all achieved under President Davenport.
The diversity of Minnesota State Mankato's student body has continued to increase. Domestic students of color represent 18% of overall University enrollment. International students represent 8% of overall University enrollment.
Minnesota State Mankato enrolls students from all 50 states and Puerto Rico.
Minnesota State Mankato welcomed 194 new international students this fall and now enrolls 1,172 international students from 96 countries. (In the fall of 2019, Minnesota State Mankato had 1,235 international students from 90 countries.)

Top sending countries in the fall of 2020:
Nepal—120
Ethiopia—113
Saudi Arabia—112
Ivory Coast—97
South Korea—78
Minnesota State Mankato 30-day Headcount Enrollment (2016-2020)
2016 – 15,110
2017 – 14,712
2018 – 14,227
2019 – 14,297
2020 – 14,604 (17th-largest in school history)
Minnesota State Mankato, a comprehensive university with 14,604 students, is part of the Minnesota State system, which includes 30 colleges and seven universities.