April 4: Minnesota River Basin Water Storage Forum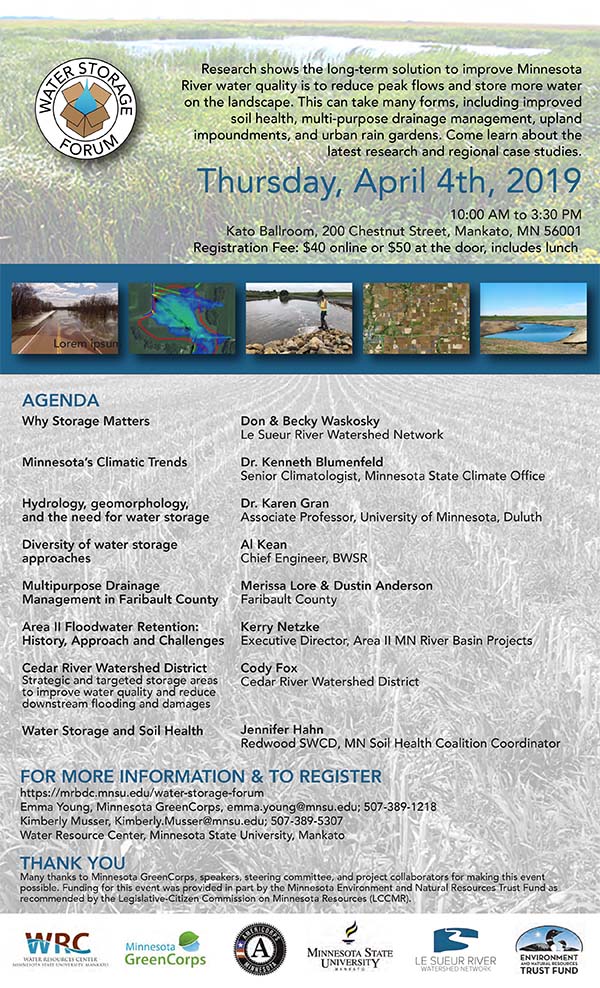 Mankato, Minn. – Minnesota State University, Mankato's Water Resources Center is hosting a the "Minnesota River Basin Water Storage Forum" Thursday, April 4 from 10 a.m.-3:30 p.m. at the Kato Ballroom (200 Chestnut St., Mankato).
The goal of the forum is for conservation partners and citizens to learn together about the diversity of water storage solutions to slow the flow of water to the Minnesota River.
The event is open to the public, and anyone who is interested is welcome to attend. The registration fee is $40 online (closes Monday, April 1) or $50 at the door and includes lunch. An agenda and registration link is available here. Student registrants may email Emma Young directly at emma.young@mnsu.edu.
The following information was provided by the event organizers:
"Research shows the long-term solution to improve Minnesota River water quality is to reduce peak flows and store more water on the landscape. This can take many forms from improved soil health and multi-purpose drainage management, to upland impoundments and urban rain gardens. The morning will include an overview of Minnesota's climatic trends, the latest research about water storage, and an overview of the diversity of water storage techniques. The afternoon will highlight water storage case studies, learning from local examples across the river basin."
For more information, contact Emma Young by phone at 507-389-1218 or by email at emma.young@mnsu.edu, or Kimberly Musser by phone t 507-389-5307 or by email at kimberly.musser@mnsu.edu.
Minnesota State Mankato's Water Resources Centeris part of the University's College of Science, Engineering and Technology.
Minnesota State Mankato, a comprehensive university with 14,227 students, is part of the Minnesota State system, which includes 30 colleges and seven universities.