April 19: 'The Future of Food' is Topic of Biological Sciences Lecture
Thursday, April 19, 2018
7:00 PM - 9:00 PM
Trafton Center, Room 121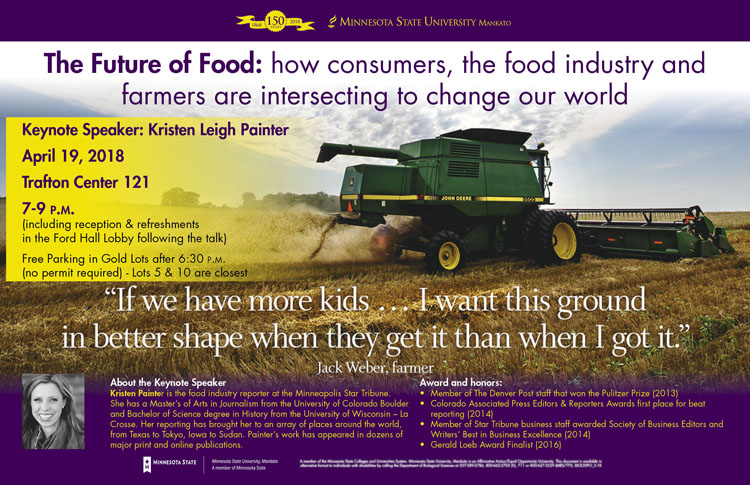 Mankato, Minn. – Star Tribune food industry reporter Kristen Painter will give a presentation titled "The Future of Food: how consumers, the food industry and farmers are intersecting to change our world" Thursday, April 19 from 7-9 p.m. in Minnesota State University, Mankato's Trafton Center, Room 121.
The event is free and open to the public. A reception, with refreshments, will be held in the Ford Hall lobby following Painter's talk. Free parking is available in gold lots after 6:30 p.m. (no permit required). Lots 5 & 10 are closest.
Painter has a master's degree in journalism from the University of Colorado Boulder and a bachelor's degree in history from the University of Wisconsin-La Crosse. Her reporting has brought her to an array of places around the world from Texas to Tokyo and Iowa to Sudan. Painter's work has appeared in dozens of major print and online publications.
Minnesota State Mankato's Department of Biological Sciences is sponsoring the event as part of its annual biological lectureship series.
For more information about the event, contact Matthew Kaproth, assistant professor in the Department of Biological Sciences, by phone at 507-389-2787 or by email at matthew.kaproth@mnsu.edu.
The Department of Biological Sciences is part of the University's College of Science, Engineering and Technology.
Minnesota State Mankato, a comprehensive university with 14,712 students, is part of the Minnesota State system, which includes 30 colleges and seven universities.