52nd Highland Summer Theatre Season Opens May 30 with 'Dirty Rotten Scoundrels'
Wednesday, May 30, 2018
7:30 PM - 9:30 PM
Opening event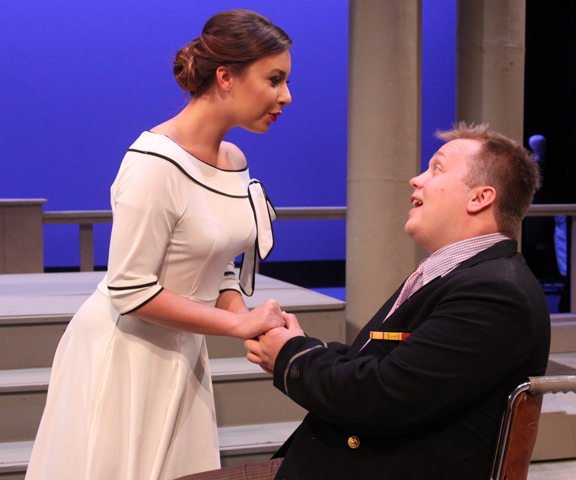 In the photo at left, Christine (Delanie Wiedrich) sings "Here I Am," much to the delight of self-proclaimed swindler, Lawrence (Gary Scott Du Charme II).
In the bottom photo, Freddy (Gabriel Sell) plays the sympathy card with Christine (Delanie Wiedrich), with the awkwardly titled song, "Love is My Legs."
MANKATO – Mystery, murder, mayhem, magnolias (of the steel variety) – Highland Summer Theatre's 52nd season will definitely not disappoint!
Kicking off with "Dirty Rotten Scoundrels" the musical on Wednesday, May 30, Highland's slate of shows is a bit backwards this year. Typically, a play opens the season in the Andreas Theatre, followed by a musical in the Ted Paul, another play in the Andreas, and a closing musical in the Ted Paul again.
This year's schedule, however, has to accommodate a large renovation project in the Ted Paul Theatre that will include new larger seats, additional wheelchair accommodations, a safety wall along the orchestra pit, new carpeting and a new grand drape, among other improvements. To provide additional time in the schedule between the Highland season and the opening musical of the 2018-19 season, the musicals will take place earlier this summer (i.e. musical, play, musical and play).
"Dirty Rotten Scoundrels" will be first in the Ted Paul (May 30-June 2); then "Steel Magnolias" will be in the Andreas Theatre (June 13-16); then "Shrek" the musical will be held in the Ted Paul (June 26-July 1); and lastly "The Musical Comedy Murders of 1940" will be held in the Andreas. All performances are at 7:30 p.m.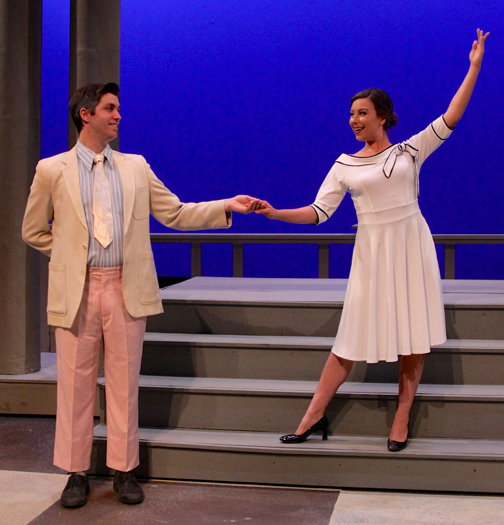 Season tickets are on sale for $66 for all four shows of Highland until June 2. Individual tickets for musicals are $22 regular, $19 discounted (over 65, under 16 and groups of 15 or more) and $15 for current Minnesota State Mankato students. Individual tickets for plays are $16 regular; and $14 for seniors ages 65 and older, children under 16 and groups of 15 or more.
About "Dirty Rotten Scoundrels": Based on the popular 1988 MGM film, "Dirty Rotten Scoundrels" takes us to the French Riviera for high jinks and hilarity. Sophisticated, suave and with a good dash of mischief, this hysterical musical comedy features a delightfully jazzy score by David Yazbek ("The Full Monty") and was nominated for 11 Tony Awards.
For more information on Highland's other upcoming shows, visit mnsu.edu/theatre/season.
For information on donating to the $500,000 Ted Paul Theatre renovation, visit MSUTheatre.com and click on the renovation project link.
For tickets, visit MSUTheatre.com, or call the Box Office 4-6 p.m. weekdays at 507-389-6661.
Contact Public Relations Director Amanda Dyslin at 507-389-6663, or amanda.dyslin@mnsu.edu for more information.